Williams High School students create painting for veterans
Originally Published: January 3, 2017 12:02 p.m.
WILLIAMS, Ariz. — Williams High School art students donated and presented a painting to American Legion Cordova Post 13.
Teacher Sharon Potter's art classes collaborated on the semester long project they called "Passing the Mantle." Several classes worked together to create the approximately 10-feet by 5-feet painting.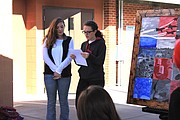 The classes presented the painting to the veterans Dec. 8. Student spokesperson Alaina Karlsberger told the veterans the class wanted to thank the devoted men and women who serve in the Armed Forces. She said the students appreciate the sacrifices made by them whether on the battlefront or in other duties. She said the students realize veterans have not always been shown the respect they deserve but want the veterans to know that they recognize their loyalty and believe they are excellent role models to the students at Williams High School.
"Each of us was responsible for one or more sections of this piece and put a little of ourselves into it," Karlsberger said at the presentation. "We hope you will always be able to look at this painting and see how much your service, your sacrifice, and your example sincerely mean to us."
SUBMIT FEEDBACK
Click Below to: