Blizzard batters Williams

Originally Published: January 3, 2017 8:24 a.m.
WILLIAMS, Ariz. — A Christmas Eve snowstorm kept law enforcement and other emergency services busy last weekend as Interstate 40 was rapidly buried in up to 15 inches of snow, causing a 28-car pileup and numerous traffic delays for holiday travelers.
Officers from the Arizona Department of Public Safety (AZDPS), Coconino County Sheriff's Office (CCSO) and Williams Police Department, along with Lifeline Ambulance and Williams Fire Department, responded o dozens of crashes on I-40 between 2 and 6 p.m.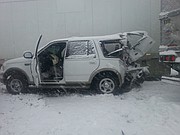 According to AZDPS Public Information Officer Raul Garcia, the severe winter storm and the slippery conditions it created, in combination with vehicles traveling at speeds greater than reasonable and prudent for the conditions, were the contributing factors.
I-40 was closed for several hours both directions by state troopers along with Arizona Department of Transportation (ADOT) because of the crashes.
Garcia said nine commercial trucks were involved in the pileup that occurred between exits 163 and 165, just north of Williams, and required heavy duty tow vehicles to remove them. He said the tow vehicles had difficulty reaching the crash scene because of weather, backed up traffic and the numerous calls for service they had received.
Williams Police Department Lieutenant Darrell Hixon said the I-40 closure significantly impacted the town of Williams as vehicles trapped on the interstate flooded into town.
"As far as traffic and manpower, everybody had to come in," Hixon said. "The chief came in, I came in, every man that we could get."
Hixon said the police department's main concern was the limited medical response because of the storm. He said one ambulance was trapped in Flagstaff after the I-40 closure, leaving only one ambulance in town. He said no other ambulances could get to Williams with the interstate closed eastbound and westbound.
"Luckily the clinic (North Country HealthCare) was open until 8:30," he said. "Our resources for medical was something to be concerned about. We couldn't use DPS Flight for Life because of the weather. Luckily we didn't have a situation for that but we had to be prepared to hunker down with a patient."
Hixon said Williams officers spent 10-12 hours diverting I-40 traffic through downtown Williams.
"Love's (Travel Stop) got jammed up too because of its location and proximity to the accident," Hixon said. "Instead of an asset for people to go, it became a log jam which caused more problems for traffic control."
Hixon said there were no major problems during the storm closure for the city, but he said the incident required a lot of organization by the department.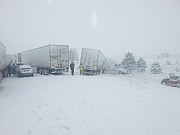 "This was a significant storm," he said. "Not for the storm damage, but for storm management. It required a lot of manpower hours for the PD."
Williams Fire Department responded to the I-40 pileup with two fire trucks to help evacuate those who were injured.
"From what I could tell, most of the injuries were minor," said Williams firefighter John Moede.
However, Moede said many of the victims in the I-40 crashes were unprepared for winter weather conditions.
"Here we are in the middle of this snowstorm pulling these kids out (of cars) who are all wearing pajamas," he said. "People need to remember to be prepared for the unexpected."
Moede said he was concerned about having enough firemen for the holiday weekend. He said five of the department's volunteers were out of town.
"I'm very proud of these guys," Moede said. "When the call went out we had two guys on Rescue 1, six on Engine 7 and we had two more on deck in case we needed more help."
Moede said the department also responded to three calls related to high winds.
"We had a major gas leak at Love's, a tree blown down and a powerline down," Moede said.
Yavapai County Sheriff's Office was also impacted by the I-40 closure.
"Most of our calls (Dec. 24) involved assisting DPS with state road issues as their crews were stretched to the limit. We had several calls regarding stranded motorists who became frustrated with the I-40 closure and attempted to drive out of Williams on Perkinsville Road to access Highway 89," said Dwight D'Evelyn of the Yavapai County Sheriff's Office.
D'Evelyn said YCSO deputies also responded to calls from drivers who tried various side roads along I-40 and either got stuck or lost.
DPS officers received 2,795 calls Dec. 24-25 Garcia reported Dec. 26 for its AZDPS Flagstaff Operations Communications Center. The prior weekend, the department received 1,041 calls for help.
Of those, DPS troopers responded to 362 calls between midnight Dec. 24, to midnight Dec. 25 in northern Arizona.
The National Weather Service issued snow totals for the storm Dec. 25: Flagstaff, 14.7 inches; Williams, 13.5 inches; and Prescott, 7.5 inches.
Related to the storm, the calls for assistance included:
• Injury and non-injury crashes: 161
• Slide-offs: 201
• Tow trucks called: 134
SUBMIT FEEDBACK
Click Below to:
More like this story