ADOT urges caution around snowplows
Originally Published: January 3, 2017 9:47 a.m.
WILLIAMS, Ariz. — An innovative new snowplow is allowing the Arizona Department of Transportation (ADOT) to remove snow and ice more efficiently by having one driver clear the width of two lanes.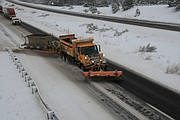 The first TowPlow to join ADOT's fleet of 200 traditional snowplows is assigned to 20 miles of Interstate 40 between Williams and Bellemont, west of Flagstaff. The device saw its first use during last week's snowstorm.
The TowPlow is a steerable trailer with a 26-foot blade that's attached to the back of a regular snowplow truck. The combination, able to plow a 24-foot-wide path, lets ADOT clear more lanes in less time using less fuel.
"It's been a very busy year for ADOT's winter operations, and as we work through this latest storm, the TowPlow has already been out on the highway plowing snow and ice," said Dallas Hammit, ADOT's state engineer and deputy director for transportation. "This new plow is a time-saving and safe addition to the department's fleet of snowplow trucks and provides a higher level of service to all drivers and travelers."
When possible, ADOT will run another snowplow truck alongside the TowPlow setup, clearing both lanes and the shoulder at once. To keep vehicles at a safe distance, a flag car will be positioned behind the snowplows traveling side by side.
ADOT will evaluate the TowPlow's performance this winter before deciding whether to purchase more.
ADOT cautions with the TowPlow-2, as with any snowplow, drivers should be vigilant and do their part to stay safe, which include; slowing down: stay well behind the safety vehicle that follows the TowPlow, not trying to pass: the flag car and the plows will move over periodically and allow traffic to pass when it is safe to do so and to remember: the road behind the TowPlow and other snowplows is the safest place to drive.
Additionally, drivers should always check highway conditions before heading out, especially during a winter storm.
More tips on preparing for travel in snow country is available at azdot.gov/knowsnow, the ADOT Traveler Information Center at az511.gov or by calling 511 or ADOT's Twitter account: @ArizonaDOT.
SUBMIT FEEDBACK
Click Below to:
More like this story