Taking health to heart: Williams students jump rope for heart health
Originally Published: February 21, 2017 12:02 p.m.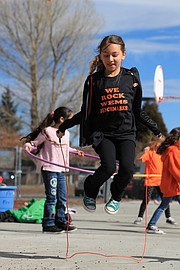 February is a month where people celebrate the feelings that come from the heart on Valentine's Day. The month is also known as Heart Health month and students in Tara Lowe's Fit Kids classes are using the month to learn all about heart health by jumping rope and shooting baskets.
The Williams Elementary-Middle School classes are participating in the Jump Rope for Heart and Hoops for Heart programs sponsored by SHAPE American and the American Heart Association. The campaign focuses on raising money for children with special heart needs and educating children on ways to keep their own hearts and family member's hearts healthy.
"We do mini health lessons on the heart throughout the month," Lowe said. "We talk about a low sodium diet, staying active and drinking lots of water. They all get bits and pieces so by the end of the month they know a lot about their circulatory system."
Lowe said every elementary aged student is involved with Fit Kids. She said each grade has the class for 40 minutes each day.
"It's a combination of activity and education," she said about the classes.
Fit Kids has been part of the Williams Elementary-Middle School (WEMS) for the past four years, and the program expanded to the high school this year. Northern Arizona Healthcare pays for the program, which officials expect to last about three to five years. About 12 schools in Flagstaff also participate in Fit Kids. The goal of the program is to prevent and reduce pediatric obesity and Type 2 diabetes.
Kindergarten through eighth grade students have Fit Kids class every day, with 20 minutes of physical activity and 20 minutes of health education. The high school program provides two new physical education (PE) classes and two weight training classes.
Lowe said she varies the health topics in her Fit Kids classes and she covers the circulatory system and heart function in February, which is National Heart Health month.
According to the American Heart Association (AHA), heart disease is the number one killer for both men and women in the United States. Cardiovascular diseases including coronary artery disease, high blood pressure and stroke collectively remain the leading cause of death in the world and the United States.
Cardiovascular diseases claimed about 17.3 million lives in 2014. In the U.S., more than 1 in 3 adults (92.1 million adults) have cardiovascular diseases, accounting for 807,775 deaths in 2014. About 790,000 people in the US have heart attacks each year. Of those, about 114,000 will die.
The good news about heart disease? The death rate from cardiovascular diseases dropped more than 25 percent from 2004 to 2014, and physical activity increased more than 7 percent from 1998 to 2015.
"We want kids to learn how to keep their heart healthy and how to help their parents keep their hearts healthy," Lowe said. "We encourage parents to be good examples by keeping their own heart healthy by eating right and staying active."
Lowe said a lot of parents think they need to have an organized exercise regime to be active, but she said just playing with their children for 30 minutes each day can have an impact on their health.
"Play with your kids and your heart is healthier for it," she said.
The Jump Rope for Heart and Hoops for Heart program also has a fundraising component. The students in Lowe's classes ask friends and family members to sponsor them.
"The fundraising is just whatever people are willing to donate," Lowe said. "Some of our families are counting how many times their child can jump in a row or for a certain amount of time, but it's really whatever you are willing to give."
Money raised by the students is sent to the AHA to support cardiovascular disease research, stroke research, and health education.
As students raise money, they are rewarded with tokens such as lanyards, softballs, t-shirts, and other items depending on how much support they receive.
The Jump Rope and Hoops for Heart programs are just one component of the Fit Kids classes at Williams Elementary-Middle School. The Fit Kids program encourages schools to offer classes that increase physical activity and healthy lifestyles.
Fit Kids is funded by Northern Arizona Healthcare which has committed nearly $1 million a year, since 2012, to provide healthy lifestyle resources for area students. There are currently more than 20 schools in seven school districts taking part in the program, including schools in Camp Verde, Cottonwood, Flagstaff, Grand Canyon and Williams.
By providing these schools with funding for additional staff and equipment, the Fit Kids at School program offers increased physical activity and healthy lifestyles education through before, during and after school activities to nearly 13,000 children.
SUBMIT FEEDBACK
Click Below to:
More like this story