Williams groups share ideas at community Event Huddle
Originally Published: February 14, 2017 1:24 p.m.
WILLIAMS, Ariz. — A large contingent of Williams community members gathered Feb. 6 for the third annual Event Huddle to share and brainstorm about future events and activities for 2017.
Because of the increase in participants, the Event Huddle was moved to the American Legion, where the 70 attendees discussed how they could work together to coordinate events and help each other.
Participants from nonprofit groups such as Williams Alliance for the Arts, Big Brothers Big Sisters, the Vikings Booster Club, and the Camp Civitan Foundation joined with businesses and churches such as Old Trails True Value and St. John's Episcopal-Lutheran church to discuss their missions and plans for the new year.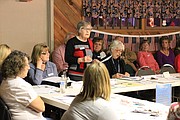 "There are some wheels spinning because people don't know what others are doing," said event coordinator Kerry-Lynn Moede.
Moede said the Event Huddle is not sponsored by any organization, but is a time for all the groups in Williams to come together and help each other.
Moede came up with the idea for the Event Huddle after hearing different people talk about events that others did not know about or that other people might be able to help with.
"Because in any organization, any family, any business, the one thing that causes problems is a lack of communication," she said. "You can do so much more if everybody communicates and understands what other people are trying to do and together people get a lot farther than they do on their own."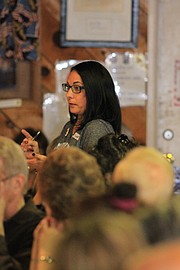 Moede said because Williams is a small town, the groups are using the same volunteer base and the same fund base to accomplish their goals. She said if groups combine forces, they may find more interest and success.
Moede said her experience in working with different community groups is that there is a lot of overlap and duplication.
"If we could have more synergy and work together versus working in our own little vacuums a lot more could get done," Moede said.
Moede said she received a lot of positive responses following the event.
"People were very kind and encouraging about the event," Moede said. "People have told me they have already been contacting groups to help out."
Moede said she is hoping people will take the information they heard at the Event Huddle and put it into action.
"It will be a good thing if people take what they got and do something," she said. "Some kind of following through or connection."
Following the event, Moede said several attendees have been discussing having a youth Event Huddle.
"It would be great if we could show students how to get involved," she said. "We could show them ways they could help."
Moede said the Event Huddle is also a good chance for groups to network with each other. They have a chance to share their mission and brainstorm with other civic minded participants. They find ways they can help other groups and receive help from those groups.
"The growth we are seeing each year shows me there is an interest in working together," she said. "We all have our things that we want to achieve, which is fine, but we also have to be willing to help others achieve their goals."
Moede said there are a lot of activities and events going on for a small town like Williams.
"It tells me the caliber and type of people that live in town, and they are interested in getting involved," she said. "They don't just go home close the garage door and turn off their light every day. This is a community in the truest sense and that's something that gets lost really quickly in a big town."
SUBMIT FEEDBACK
Click Below to: