Potholes a concern on I-40 corridor
Originally Published: February 14, 2017 11:19 a.m.
WILLIAMS, Ariz. — Over the last few months potholes on Interstate 40 have become increasingly common, causing tire blowouts, bent rims and other damage to many vehicles.
Arizona Department of Transportation (ADOT), who is responsible for state road repairs, said they are working to repair these hazards.
"ADOT maintenance units address potholes as quickly as possible after they appear, making temporary patches and then more permanent repairs once pavement has had time to dry out," ADOT spokesman, Ryan Harding wrote in an email.
Harding said potholes have become more severe after recent winter storms, which has increased the challenge of keeping up with pothole repairs.
"It can take some time to get to everything. But our crews have been responding aggressively, including patching potholes between winter storms," he said.
According to ADOT, potholes can pop up quickly when moisture seeps into and below asphalt, which in northern Arizona can be stressed by the combination of freezing overnight temperatures and daytime thawing.
Patches are made from a pavement mix, which is heated, placed in the damaged area and tamped down. Harding said through early January, crews have put down 10 tons of pothole patch.
ADOT crews must wait for winter weather to pass and the road to dry out before making more permanent fixes to the road surface. I-40 was last resurfaced between Williams and Flagstaff in 1995.
However, on average the Flagstaff area experiences more than 200 daily freeze-thaw cycles each year. Adding traffic, including heavy use of I-40 and I-17 by commercial vehicles, causes the stressed pavement to break away.

Because of the increase in potholes, local tire and auto shops have had a steady stream of tire, rim and undercarriage repairs.
G & M Tires, Sandoval's Mobil RV and Auto Repair and JJ's Auto Repair in Williams have collectively repaired or replaced more than 150 tires with pothole damage in the last two months.
Love's Travel Stop has also had above average tire repairs to semi-trucks.
"I can't really put a number on it but it's way more than normal," said Love's operation manager Dennis Haehn.
Shop owners and mechanics agree tourists and those traveling through town are incurring the greatest setbacks.
"Mainly it's the tourists, they don't know about the bad roads," said James Howard, owner of JJ's Auto. "They can't avoid (potholes) when they're in the right lane. Sometimes you can't move over so you have to hit (potholes) or get hit."
J.P. Pedraza, a mechanic at Mobil, said damage to tires has consistently been on the driver's side of the vehicle and always includes both the front and back tires.
"Basically what they're doing is breaking the rims every time they hit a hole," he said. "Once they hit the pothole it's pinching (the sidewall of the tire) and blowing them out."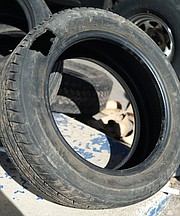 George Otero, owner of G & M Tires said in January he had up to two cars per night towed into the shop for tire damage and on average it costs four to five hundred dollars to replace two tires.
"One guy had to get two tires and two rims so you're talking like $800," he said.
ADOT said the back-to-back storms in December and January has made the pothole problem worse.
"In part because of the plowing required to clear I-40 west of Flagstaff and I-17 south of Flagstaff," Harding said.
ADOT said two pavement projects are coming to I-40. One west of Flagstaff, starting with both directions between Parks and Riordan (a 12 mile stretch), which should start this spring and the other in both directions from Cataract Lake to Parks (a 17 mile stretch) later on this year.
Until potholes are filled and the roads re-paved, ADOT is using signs to alert drivers to road conditions and said they strongly recommend drivers keep an eye out for them and drive accordingly.
---
SUBMIT FEEDBACK
Click Below to: