Food Bank in danger of closing

Originally Published: February 14, 2017 11:02 a.m.
WILLIAMS, Ariz. — Despite having plenty of donated food, the Williams Food Bank is in danger of closing because of a dramatic decline in volunteers.
"We had to close for a short period in January because of a lack of volunteers," said Food Bank Director Guy Mikkelsen. "I think that's the first time that's ever happened."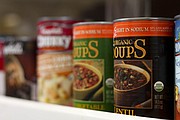 The organization has been actively seeking volunteers, but has only received a few responses so far.
"We are hurting for volunteers," he said.
Mikkelsen said the few volunteers that show up are trying to make up for the loss but are burning out.
"Our weekly gals are worn out," he said. "They are a couple senior ladies and they need some help."
The work at the Food bank includes stocking, sorting, prepping, cleaning and distributing the food each week.
"It's the middle of the week stuff I need the most help with," Mikkelsen said. "I have daily donations and two semi deliveries each month that have to be unloaded and processed."
Mikkelsen said he especially needs volunteers who can lift heavier boxes and do some strenuous work.
"We're each doing the work of three people," he said. "We're all getting burned out."
Mikkelsen said he has gotten more volunteers for distribution work on Fridays, but could still use more volunteers.
"I need people who can stick it out, because that's a long day," he said.
Besides just helping feed the local community, the Food Bank also distributes food that would otherwise go to waste.
"I try to foster that sense of responsibility to our resources and not be wasteful," he said. "It's sinful how much food actually gets thrown in the dumpsters at stores. They have their standards but there really is a secondary use."
Mikkelsen said the Food Bank serves over 200 families in Williams each month. He said the organization also distributes food to community groups, the schools, and community dinners. They also have sponsored the Community Easter Egg Hunt each April.
"I think it would be a loss to the whole community," he said. "I'm trying not to let that happen."
SUBMIT FEEDBACK
Click Below to:
More like this story