Arizona: open roads and opportunities for African Americans
Originally Published: February 14, 2017 11:30 a.m.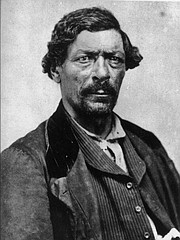 GRAND CANYON, Ariz. — From their origins on the shores of the New World in the 15th century, the story of African Americans has been shaped by travels and struggles.
Margaret Hangan, Kaibab National Forest archaeologist and author of a paper on African Americans in the southwest, explained that because of the intermingling between North African Moors and Spain, Portugal and France, many Africans arrived with the Spanish when they claimed their first foothold in the New World. When they began expanding their empire in what is now the Southeastern United States and the eastern shores of Mexico, Africans and people of mixed race expanded with them, serving as members of exploration and survey parties. One of the first Africans to reach the Southwest appears to have been a Spanish slave sent in search of Cibola, the legendary "City of Gold." Hangan said he made it as far as the Hopi Mesas, although he appears to have been killed near Zuni Pueblo in 1539.
Although some Africans were slaves when they arrived in the Southwest, many were founders and wealthy property holders in towns and communities throughout the Southwest, including Arizona, New Mexico, California and Texas. However, Hangan explains that they lost most of their status and property after the Spanish American War. After the Compromise of 1850, most of the western territories did not directly support slavery, an exception being the early Mormon colonies in Utah. Africans and those of mixed race were explorers, traders and trappers throughout the West, according to Hangan, but surviving census records indicate that a majority of African Americans arrived alongside the railroad, mining and ranching industries.
After the Civil War, regiments of mixed races, including Africans, Hispanics and Natives, arrived in Arizona. Based out of San Francisco, the United States Colored Troops (who later became known as Buffalo Soldiers) of the 9th and 10th Cavalry and 24th and 25th infantry participated in both the Indian Wars of the 1890s and the Spanish American War. The 1st Arizona Volunteer Infantry, which would later become the elite Bushmasters unit during World War II, played a large role in several major conflicts, from the American Southwest to Panama and the Philippines. When they were not stationed abroad, these units helped establish the American military presence at the U.S./Mexico border, as well as protect ranching and mining operations and escorting the U.S. Mail through the territories.
Because the railroad was the swiftest and easiest way to move across the continental United States, Hangan said that many African Americans, like many other settlers in the West, arrived via the rails. Some of them were settlers, but many of them were workers as well, she said, serving as porters, waiters and maintenance workers.
Not only men worked on the trains, however. Women worked on the trains as well, said San Diego State University professor emeritus of African American history Theodore Kornweibel in a radio interview with KPBS. While men were likely to be laborers or porters, African American women served as Pullman maids, whose duties included looking specifically after the needs of female passengers.
"They were expected to be able to give manicures, to dress hair, assist ladies with the bath, assist with small children," Kornweibel explained. "Some of them were nurses and might be called upon for assistance like that."
Other industries and opportunities drew African Americans as well, including the lumber mills in the White Mountains, Williams and Peach Springs. According to Hangan, these mills paid good wages to African Americans, something that lumber mills in the southern states didn't offer.
Many young African American men also joined Roosvelt's newly-established Civilian Conservation Corps — which was integrated at its inception. African Americans lived and worked alongside their white counterparts at Phantom Ranch at the bottom of the Grand Canyon until complaints forced the program to establish a separate, segregated camp.
While finding work in the Grand Canyon area wasn't especially difficult — Africans Americans in many physical labor industries, including railway work, lumber mills, copper mines and ranches — finding accommodations and dining options was still tricky. African American train passengers found that, while the railroad cars weren't definitively segregated after leaving the southern states, finding places to eat or stay after leaving the trains was hit or miss, mostly miss, Hangan said.
One bright spot, however, were the Harvey Houses that dotted the railways and much of what later became Route 66. The hotels and restaurants founded by Fred Harvey hired many African Americans as cooks, waiters and porters. The El Tovar Hotel, along with the Frey Marcos Hotel in Williams and the Hotel Escalante in Ash Fork also employed black men as waiters and bartenders alongside the famous Harvey Girls.
Not only did the Harvey Houses employ African Americans, they also served them. And not at the back entrance of the kitchen, either. In her paper, Hangan suggested that not only did the Harvey Houses serve black travelers, they did so in the same dining room as their white patrons.
"This was very unusual, especially for the time period," Hangan said. "This was pre-1964, before the Civil Rights Act. If African Americans were travelling Route 66, there were very few places they could eat or stay."
Like most other Americans, African Americans largely abandoned the rails when automobiles became cheaper and more widely available. There was even a book published specifically for traveling African Americans, called the Negro Motorist Green Book, to help them find safe accommodations, gas stations and restaurants on the road.
"When car travel became popular, African Americans preferred them because they were less likely to encounter issues," Hangan explained. "The rail cars weren't segregated, true, but things happen."
Hangan said that there isn't a wealth of information about African Americans in the Grand Canyon area, even in official documents like census records. Although establishments like the Harvey Houses were known to hire African American employees, there isn't a lot of information about individuals. She suggested this may be because many of the workers were migratory and didn't stay for very long, although Williams and Flagstaff both had small, settled black populations.
African Americans were limited in where they could live, and the schools at both Williams and the Grand Canyon were eventually segregated (and then re-integrated), but many still made the journey West to take advantage of the opportunities for work and recreation offered by one of the country's most unique communities.
---
SUBMIT FEEDBACK
Click Below to: