Business beat: Ten in One Tattoo
Originally Published: February 7, 2017 3:27 p.m.
WILLIAMS, Ariz. — At one time circuses and carnivals offered "Ten in One" specialty acts under one tent for a single admission price. These sideshow acts exhibited giants, midgets, magic tricks, daredevil stunts and often a tattooed person accompanied his/her tattoo artist.
"They would show the tattoos on the ladies and the men and would say, 'if you want your own, come backstage and get one for a nominal fee.' I love tattoos and I love circuses and so here we are," said Jeff "Jefe" Arnett, owner and tattoo artist at Williams' first tatoo shop — Ten in One Tattoos.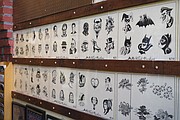 Arnett opened Ten in One Friday, Jan. 13, which, following in the tradition of tattoo culture, could be his lucky number.
"I did a couple $20 tattoos and had a $13 sheet that I was running off," he said. "The way it works (for Friday the 13th tattoos) is it's always a tattoo with a 13 in it because it's supposed to be unlucky and then customers give you a seven dollar good luck tip, so it's a $20 tattoo. It kind of counters the 13 you're getting."
Arnett has an extensive background in tattooing when he started tattooing 18 years ago in Wisconsin. In 2006, he came to Arizona for a guest spot in a local shop. He fell in love with the area and the people and moved to Flagstaff.
Over the last 11 years he has worked in Flagstaff, spending the last eight years at Birch Avenue Tattoo.

Arnett said he initially thought Ten in One would serve mainly seasonal tourists, but after opening in the middle of January, he realized there were many local clients looking for his services.
"I didn't think there was going to be as many locals as there is but there's a lot of tattooed people in this town," he said.
Arnett said another incentive was that some of his customers at Birch Avenue Tattoo were from Williams.
"They're all super stoked because now they don't have to drive a half an hour to Flag," he said.
Arnett said appointments are not necessary unless customers want to get an extensive piece or a custom tattoo. Some of which require extra time to designing and draw it.
"For those, it's beneficial to set up an appointment so we can get a design nailed down properly, but if they are coming in and picking something it's pretty much walk-in," he said.
Arnett's 18 years of experience has taught him how to do pretty much anything a client has in mind. He enjoys working in black and grey ink but will do color as well. Clients can collaborate with Arnett for a custom design or they can choose from artwork he has on display. For those uncertain of what they want, Arnett plans to have a prize wheel that clients can spin and let fate decide what they will have permanently tattooed on them.
"For $80 they can spin the wheel and pick the design that they land on or if they don't like it, for another $20 they can spin again," he said.
Arnett said getting a tatto can take from 20 minutes to several hours, depending on the amount of work and how large the design is. He is charging an $80 minimum and $125 an hour for larger pieces. Touch-ups start at the same price as a new tattoo.
"I guarantee mine for the first six months, so if you need a touch-up or anything the first one is free," he said. "It's 50 percent how I tattoo and 50 percent how they heal, so I always offer one free touch-up."

Ten in One is the first licensed tattoo shop to open in Williams. Arnett's work can be viewed on Instagram at Jeff_Jefe_Arnett.
Ten in One Tattoo is open Wednesday, Thursday and Friday from noon to 8 or 9 p.m. depending on customers and weather. They are located at 305 W. Route 66 in Williams.
---
SUBMIT FEEDBACK
Click Below to: