Vikings Basketball: Williams takes two from Ash Fork
Originally Published: December 26, 2017 10:55 a.m.
WILLIAMS, Ariz. — The Williams High School boys and girls basketball team faced neighboring rival the Ash Fork Spartans Dec. 19 and brought home two easy wins.
The Vikings boys got off to a strong start and beat the Spartans 61-38 at home.
Payce Mortensen led the scoring for the Vikings with 15, followed by Juaquin Gutierrez with 13, William McMenamin with 11 and Zack Perkins with nine.
Mortensen went 2-for-7 on 3-pointers, managing a 29 percent shooting percentage. He went 4-for-9 on field goals with 44 percent shooting.
Gutierrez went 4-for-4 in field goals and 1-for-2 in 3-point shots. Perkins had 80 percent shooting going 4-for-5 in field goals. McMenamin went 3-for-4 in field goals.
The Vikings shot 44 percent from the free-throw line with McMenamin drawing a number of fouls under the basket. McMenamin made 5-for-9 from the line, followed by Gutierrez and Lopez with 2-for-3.
Mortensen led the team with six steals, six assists and four turnovers. Diego Pedraza had three assists, two steals and two turnovers and Lopez added three steals, two assists and two turnovers.
McMenamin led the team with eight rebounds, Perkins followed with seven.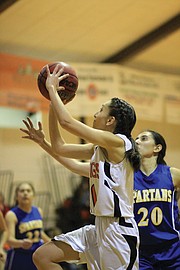 The win put the Vikings at 5-2 in the 1A Central region and 10-4 overall. Williams is currently ranked third in the region behind Joseph City and Cibecue.
The Vikings head to the Chandler Prep tournament Dec. 28-30 and then return home to face St. Michaels on Jan. 8. at 7 p.m.
The Lady Vikes beat Ash Fork 34-27 Dec. 19.
Amaryssa Orozco led the scoring for the Lady Vikes with eight. Orozco went 3-for-9 in field goals and 2-for-2 in free throws.
Aliyah Alvarado and Maegen Ford each brought in seven points for the Lady Vikings.
Maddie Jensen, Ford, and Alvarado each had one 3-pointer for the team.
Ford led the defense for the team. She had five rebounds, three assists, two steals and forced 10 turnovers. Hernandez followed with two rebounds and eight turnovers.
The win moved the Lady Vikes to 4-2 in the 1A Central region and 6-7 overall. They are ranked fourth in the region behind Grand Canyon, Cibecue and Mogollon.
The Lady Vikes head to the Camp Verde tournament Dec. 29-30 and return home to face St. Michaels Jan. 8 at 6 p.m.
SUBMIT FEEDBACK
Click Below to:
More like this story