Living with a DUI: Arizonans share their stories
By Max Efrein Special to the Williams-Grand Canyon News
Originally Published: December 26, 2017 10:34 a.m.
PRESCOTT, Ariz. — Being convicted of driving under the influence (DUI) does many things to one's life.
For a 19-year-old recent high school graduate, it put him in debt and forced him to reconsider his future endeavors.
"The effects aren't just when the money ends or when you spend your time, it's on into your life and career, just for one time," he said.
For a retired 68-year old woman, it came as a shock, cost her upwards of $10,000 and caused a tremendous amount of stress.
"The stress was just killing me," she said.
And for a 65-year-old retired veteran, whose niece was killed by a drunk driver two years ago, he considers his recent DUIs a blessing.
"I'm never touching a mind-altering substance ever again," he said.
Here are their stories.
Recent high school grad
Impaired driver fast facts
Drivers with a blood alcohol concentration (BAC) of 0.08 percent or higher are considered impaired by law.
About one in three traffic deaths in the U.S. involve a drunk driver.
All 50 states in the U.S. and the District of Columbia have laws in place to protect the public from drunk drivers.
Alcohol-related fatalities have decreased, falling from 329 people killed in 2015 to 307 in 2016.
Of all alcohol-related crashes, 78.8 percent occurred in urban areas and 21.2 percent in rural areas.
• Information courtesy of CDC and ADOT
Kody Ashbaugh, 19, considered himself "a good drunk driver."
"I mean, there's no such thing as a good drunk driver, but I was good," Ashbaugh said. "I've driven right in front of cops, right behind cops, completely blasted and they'd never know it because I don't swerve, I don't speed, I use my turn signal."
But one evening his ego wrote a check his body couldn't cash.
After several hours of consuming alcohol and a few other substances in the woods with his high school friends one evening, he decided to drive home instead of spend the night camping as he planned.
"I was cold, I was drunk, and everybody started packing up and heading home," he said.
Several people requested he give them a ride. He agreed.
By the time he dropped the last person off and was headed home, it was about 7 a.m. and fatigue overcame him while driving.
"I ended up passing out behind the wheel at a stop light on Highway 89," Ashbaugh said. "I was asleep for about 45 minutes and woke up to cops pulling me out of the truck."
His blood alcohol content (BAC) was about .19 — more than twice the legal limit. Anyone caught driving with a BAC above a .15 is charged with extreme driving under the influence (DUI). This comes with about twice the fines and three times the jail time as a normal DUI.
However, since it was his first offense, his public defender managed to get the sentence reduced to a regular DUI.
"The reason I share my story is it is not worth it," Ashbaugh said. "It is so not worth it. I've paid almost $8,000. I'm trying to get my license back now and it's just a huge mess."
He also had to spend 24 hours in jail — the minimum for anyone who receives their first DUI.
"Jail sucks," Ashbaugh said. "I never want to go back there."
Then there's the matter of his future endeavors.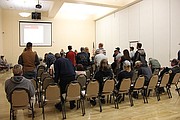 "I was planning on getting my CDL (commercial driver's license), but that's not happening for seven years now," Ashbaugh said. "I was wanting to get a pilot's license, but I haven't even looked into that. I probably won't even be able to."
A DUI in Arizona can never truly be expunged from one's record. It can, however, be set aside after seven years, according to JacksonWhite Attorneys at Law. This means it's still on your record, but can no longer affect your driving privileges and you can legally declare on applications that you have never been convicted of a crime, assuming the DUI set aside was your only conviction.
"Now that I've got through this whole process, it's not happening again," Ashbaugh said. "If I drink a beer, I'm not getting behind the wheel. It's as easy as that."
Retired woman
A 68-year old woman, who asked to be referred to as Jean to protect her anonymity, is still writhing with stress and anger a year after being arrested and charged with a DUI.
It was early December, 2016. Jean's friend was having boyfriend issues and asked Jean to join her for a drink along Whiskey Road in downtown Prescott.
"She was really upset," Jean said.
Despite drinking heavily, Jean's friend insisted on driving Jean to her nearby car when they were done. Jean intended to call her husband once she got to her car so he could pick her up, but as her friend turned onto N. Montezuma Street, Jean noticed her friend was driving on the wrong side of the road.
Before Jean could get her friend's attention, the vehicle ran into a stopped car.
When the police arrived, they gave breathalyzer tests to both women. Jean's BAC was about .11. Her friend was so intoxicated that she ended up going to the hospital that evening, Jean said.
Since Jean wasn't the driver, she wasn't in any trouble at this point. However, she was cold and asked the officers if she could go to her car to wait for her husband. They said okay.
Once she got to her car, she made the mistake of turning it on to get the heat going.
"I was freezing," she said.
She even went a step further by re-parking her car closer to the parking lot's ingress so her husband could find her more easily.
Police saw her do this and quickly closed in. She was arrested, taken to the sheriff's office for processing and her car was towed.
At the time, Jean didn't realize what she had done was illegal.
"Now I know," she said. "I talked to several judges, and because of the way the laws are written, they have no flexibility with hearing individual cases."
While this is more or less true, there are quite a few things to consider when determining whether or not someone deserves a DUI for their actions. Therefore, given her account of the situation, Jean may have had a case. She tried having the charge overturned, but proceedings kept being delayed because of random events. All the while her stress and the cost of fighting the case were piling up.
DUI PENALTIES
Standard DUI
(0.08+, first offense)
Jail: 10 days
Fines: About $1,500
Extreme DUI
(0.15+, first offense)
Jail: 30 days
Fines: About $2,780
Super Extreme DUI
(0.20+, first offense)
Jail: 45 days
Fines: About $3,240
Source: Ian M. Wyer/Lorona Mead law firm
"The stress was just killing me," Jean said. "It's like a whole year had gone by with no resolution."
So she decided to drop the case and accept the plea deal.
"Had I known how long it was going to take, I would have taken the plea at the start," Jean said.
What perhaps upsets her the most about the whole situation, though, is that her friend was never charged with a DUI.
"It's like, how did I end up here instead of her?" Jean said.
Retired veteran
About two years ago, Ronnie Pearson's niece and her boyfriend were killed by a drunk driver in Houston, Texas.
"It was devastating," Pearson said.
Despite the trauma to him and his family, it wasn't enough to make Pearson quit his habit of driving intoxicated.
"Technically, my mind set had been, 'I'm not really that drunk' and 'I can make it,'" Pearson said.
That changed when he was charged with two DUIs — one on May 7 and the other on May 9.
"I had been on a two- or three-day binge," Pearson said.
The second DUI came after he fell asleep at the wheel the morning of May 9 and drove right into another vehicle going about 35 miles per hour.
"I pushed his car across the intersection," Pearson said. "I'm just lucky to be alive. I'm also lucky that the guy I hit wasn't injured."
Had he seriously hurt or killed the other person, he's not sure he would be able to live with that on his conscience.
"We take things for granted, but there are other peoples' lives and it impacts so many other people than just you," Pearson said.
Since that incident, Pearson said he has been completely sober.
"I haven't had a beer; I haven't had anything," he said. "I've totally changed my whole life. I don't drink anymore. By the grace of God, I'm here and alive."
SUBMIT FEEDBACK
Click Below to:
More like this story