Williams Police test gun mounted cameras
Originally Published: December 5, 2017 9:04 a.m.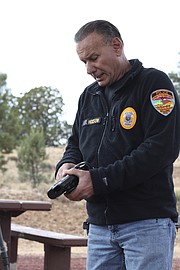 Williams Police Department (WPD) is midway through a 30-day pilot program testing gun mounted video cameras and the department, so far, is impressed.
"This product that we are piloting is cutting edge and could really increase the public awareness, public confidence," said Williams Police Department lieutenant Daryl Hixon.
Hixson said the camera could portray a better visual than body cameras or at the very least show a more complete picture of an incident.
Hixson said the cameras could be used in addition to body cameras. All officers at WPD currently wear body cameras.
The cameras are distributed by Viridian Weapon Technologies, which is devoted to applying cutting-edge technology for self-defense products.
Designed for law enforcement, the Fast Access Camera Technology (FACT) have Instant-on activation, which automatically captures HD video and audio the instant a weapon is drawn from its holster.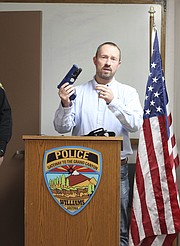 The cameras cannot be turned on or off unless the pistol is put back in the holster.
Williams PD is testing the camera by putting it through a variety of trials on the shooting range.
Officers are writing reports on the results and submitting these results back to Viridian.
Officials from Viridian came to Williams Nov. 30 to observe testing of the weapons.
"We believe this is the first of its kind, there is nothing else out there right now being implemented," said Brian Hedeen, President and CEO of Viridian.
Hedeen said his company had been working with Instant-on technology in lasers and tac-lights for several years, but after the Ferguson shooting in 2014, the company saw an opportunity to further use the technology.
"We right away saw this would be a great application for our technology," Hedeen said.
"The instant on technology could be used on a camera to capture evidence in situations like that."
SUBMIT FEEDBACK
Click Below to:
More like this story