Old Trails: Celebrating 60 years of lumber, hardware and more
Originally Published: August 22, 2017 1:19 p.m.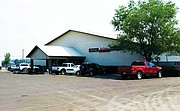 In 1957, the average home cost $12,220 and the average yearly wage was $4,550. Gas was 24 cents a gallon, children were playing with Slinkys and Hula Hoops, and in Williams, Old Trails True Value Lumber Company was taking root.
Sixty years later, most of these have prices have changed and toys are mostly of the hand-held electronic variety, but Old Trails is still in business and still selling lumber.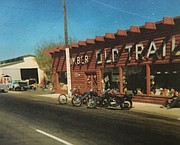 Old Trails has been a family affair for over three generations of the Cureton family. Dale and Kim Cureton currently manage the business for the family. Dale's father, Carl Cureton, originally purchased the business from Les Perkins.
The store has gone from focusing on lumber to becoming a one-stop shopping trip for all types of hardware, houseware and even camping and hunting equipment.
Originally the business was located on Route 66 where the Williams Recreation Center and Skate Park are today.
Carl and Perkins were childhood friends who grew up together in Williams.
Perkins continued operating a hardware store across the street where the Masonic Lodge stands today. Carl kept Old Trails operating primarily as a lumber yard with a small area for paint and a few supplies, according Dale.
Over the next several years, Carl worked to remodel the yard. He built a new building in 1970 to accommodate his growing business. That same building is still used as the Rec Center building.
"We had buildings connected from there all the way down to where the swimming pool is," said Carl's son, Roxen Cureton, in a 2007 Williams News interview.
In 1969, Old Trails became affiliated with True Value, a dealer-owned cooperative. In 1988, another new addition was added, known currently as the skate park.
In 1990, the family decided the location on Route 66 was not large enough to accommodate the growing business any longer.
"We just couldn't grow without crossing the railroad tracks," said Dale. "The retail space was only about 3,000 square feet."
The Curetons decided to move the business to some family property on Edison Avenue in hopes of expanding the retail space. However, the family ran into problems when the found there wasn't enough water to supply adequate fire protection to the area. Some city managers hoped to develop the area into an industrial zone however, so 10-inch water lines were brought to the area.
Construction began in 1993 and the business opened its doors at the new location in December of 1994, and now has close to 20,000 square feet in retail space.
Carl's sons Tom, Allyn, Roxen and Dale helped Carl with the store and eventually took over management when Carl passed away.
"The store was my dad's love," Dale said.
Family history
The Cureton family has been in Williams since 1906, when T.H. Cureton and his wife, Nellie, moved to the area. T.H. Cureton taught school in Williams for many years and was the Superintendent of Schools for some of those. He also was in the Arizona Legislature and was an attorney.
Cureton was a savvy businessman, and ran a campground and service station along old Canyon Highway, which now bisects Airport Road and Pronghorn Ranch road.
Cureton used caged mountain lions to lure car campers off Route 66 to stay at the campground.
In 1986, 5.6 acres of Cureton Park, originally purchased for around $1,000 by T.H. Cureton, were donated to the city of Williams. The land was set aside for recreational purposes, and at the time, plans for a municipal pool, tennis courts, volleyball courts and exercise stations were in the works for the park.
T.H. Cureton passed away in 1957 and his wife, Nellie King, followed in 1960.
T.H. had two sons, Carl and Miles Cureton, who both followed in their father's educational footsteps, becoming teachers. Miles, the oldest son, began teaching in Williams when the depression hit in 1932.
Miles retired in 1974 after a total of 41 years as a teacher and principal at Williams with 28 of those years as elementary school principal.
Carl taught both elementary and high school for more than 20 years, before retiring in 1957 to operate the Old Trails lumber store. Many in the community may still remember Carl's love of Great Danes, which he regularly took for rides into town in the sidecar of his motorcycle.
Carl's wife Ruth was a respected kindergarten teacher. In 1956 she organized the first private kindergarten in Williams and taught there until 1959. In 1961, she began teaching at the public school and continued teaching until 1971.
The store today
Old Trails now has 15 employees and has a loyal contingent of customers. Kim and Dale Cureton have run the store for the family for the past five years.
Kim Cureton said they try to keep a variety of inventory to make it a one-stop shopping experience. She said the most popular items are still building materials, paint and hardware, but more people are now purchasing assorted items such as yard decorations and household items.
"We try to ensure our employees have expertise to help with building materials and other items people need within the community," she said.
"I have ideas for other areas I'd like to branch out to in the store," Dale Cureton said. "The town has the dollar stores and Safeway, with each having its focus, and we're hoping to provide what others don't carry."
Kim said she and Dale have tried to make the store a big part of the community the past few years. She said they enjoy sponsoring arts and crafts events at the stores and sponsoring groups and clubs in town.
She said having an anniversary celebration is a way for the store to return their gratitude to the community.
"We want to give back to the community who has supported the store all these years," she said.
Old Trail's 60th anniversary celebration begins at 10 a.m. Aug. 26 with music, food and activities. The store will offer six large raffles at the top of each hour beginning at 10 a.m. Free raffle tickets will be given to those who bring food for the Williams Food Pantry and More. Hamburgers and hot dogs will be served from 11 a.m. to 1 p.m. and two cakes will be out in front of the store. A vendor will be serving ice cream dots and children can sit in the Williams Fire Department 1929 fire engine.
"We are also having an end of summer sale and there will be bargains throughout the store," she said.
SUBMIT FEEDBACK
Click Below to:
More like this story