Connection to the Canyon: A direct descendant of William and Ada Bass, Meagan Gipson celebrates her connection to Grand Canyon through music
Originally Published: August 22, 2017 11:18 a.m.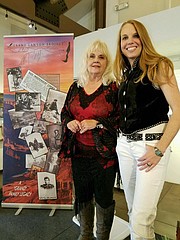 GRAND CANYON, Ariz. — Around 1876, 27-year-old William Wallace Bass headed west on doctors' orders, hoping the Southwest's arid climate might improve his heart condition.
Fifty-seven years later, Bass had become another of the Canyon's pioneer legends, setting up a thriving tourism trade in what was then one of the most remote locations in the United States. Bass met his future wife, Ada Diefendorf, on a journey from Prescott to the Canyon. A music teacher from Prescott, Ada was also Bass' business partner, leading tourists down to the Colorado River. She became the first European woman to raise her four children along the rim.
The Bass legacy at the Grand Canyon is far-reaching, and it's something Meagan Gipson, Bass' great-great-grand-daughter, celebrates. Together with her mother, Debbie, Meagan launched the Grand Canyon Project, a musical, multi-media storytelling experience that honors their Arizona heritage.
Grand Canyon Project, Gipson says, is the result of four years of investigation and research — sorting through letters, family memorabilia and other pieces of the family's Grand Canyon history.
Meagan decided to share her journey through history via music — something she's been passionate about for the last 20 years. She released her debut album, "100 Years Away," in 2016. Through music, she weaves together diary entries, letters, personal accounts and intrigue to form convincing pictures of her ancestors. It also includes a special track, "Guy Quickstep," which was composed by Ada Diefendorf-Bass more than a century ago.
Written to connect with Meagan's album, Debbie's "Stories the Canyon Keeps" is an emotional journey for readers, and it references songs designed to add another dimension to the history surrounding the Bass family.
The project features a live stage performance, in which Meagan and Debbie invite audiences to "travel a passageway back in time." The show incorporates Meagan's original songs as well as excerpts from Debbie's book to introduce audiences to figures of the past — William and Ada Bass, Bert and Edith Lauzon — and their dedication to carving out a life and a dream at the Grand Canyon.
"We share personal tales of what the real-life world of the rugged West was for them, what their day-to-day entailed and how they experienced life in what was one of the most remote but stunning areas of the world," she said.
Along with the performance aspect of the project, the Gipsons have also launched a product line that accompanies the album and book. It features made-in-America products for both children and adults, including t-shirts, bags, bookmarks and coloring pages. The Gipsons made sure all the products are manufactured in the United States and are packaged with environmentally-friendly or recyclable materials. The shirts and bags are printed in Arizona.
More information about the Grand Canyon Project can be found by visiting www.grandcanyonproject.com.
---
SUBMIT FEEDBACK
Click Below to: