Sun takes center stage at Grand Canyon
Interior Department, NASA offer tips on safely viewing, photographing 'great American eclipse'

Originally Published: August 15, 2017 10:39 a.m.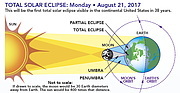 GRAND CANYON, Ariz. — When the moon passes in front of the sun on the morning of Aug. 21, it will be the first time a total solar eclipse has passed across the entire length of the United States since 1918.
To recognize the astrological event, Grand Canyon National Park will have solar viewing devices set up near Mather Point and the Grand Canyon Visitor Center, along with one large telescope for solar viewing. Rangers will also have a limited number of eclipse glasses for safe viewing.
A total solar eclipse is the result of the moon passing directly between the sun and the Earth at precisely the correct distance to completely obscure all or part of the sun.
Arizona is located south of the path of totality, a 70-mile wide swath across the central U.S. from Oregon to North Carolina where observers will see day become night for just over two minutes. Viewers in northern Arizona will see about 70 percent totality, with a small crescent of the sun's light visible below the moon's shadow.
Viewing the eclipse directly is harmful to the eyes. Ordinary sunglasses, even very dark tinted ones, are not enough to protect the eyes from the sun's ultraviolet rays. The Interior Department recommends all viewers wear specialized eclipse viewing glasses, which are available from many online sources for around $5.
If eclipse glasses aren't available or someone forgot theirs at the hotel, a cheap, makeshift eclipse viewer can be made using two pieces of paper. To make a small eclipse projector, take one piece of paper and poke a hole in it with a pin or thumbtack. To view the eclipse, turn your back to the sun and hold the paper with the pinhole over your shoulder. Hold the plain sheet of paper at arm's length to see a reflection of the eclipse.
On the South Rim, the eclipse itself will last about two hours and 47 minutes. First contact, when the moon first begins to move in front of the sun, will occur around 9:13 a.m. The eclipse will reach maximum coverage at 10:33 a.m. and begin to subside, ending around noon.
For those who want to photograph the phenomenon, a solar filter for the lenses is required, as the rays can damage the camera. Solar filters are available online or at camera stores. A tripod is recommended to help eliminate blurry photos caused by camera shake when the sky becomes dark. A flash is not necessary.
More information about the eclipse and a map of its path across the United States can be found at https://eclipse2017.nasa.gov/eclipse-101.
SUBMIT FEEDBACK
Click Below to: