Hope and Trauma exhibit on display in Flagstaff
Coconino Center for the Arts highlights impacts of uranium mining on Navajo lands and people in new exhibit Aug. 12 — Oct. 28
Originally Published: August 15, 2017 3:29 p.m.
FLAGSTAFF, Ariz. — Hope and Trauma in a Poisoned Land, an exhibit presented by the Flagstaff Arts Council, explores the impact of uranium mining on Navajo lands and people with art pieces reflecting how radiation has impacted their communities.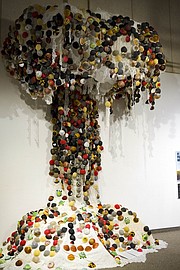 The exhibit opened at Coconino Center for the Arts Aug. 15. Artists created work based on the experiences and perspectives of Navajo people, using the stories from Navajo communities, of how radiation impacted their bodies, land, water, animals and materials they used in their everyday lives.
All artwork was based on a series of educational programs that took place in Cameron, Arizona and in Flagstaff in October 2016.
Six to seven artists were asked to participate and the workshops were also open to artists from the community.
"We gave them an opportunity to make work in response to it, as well," said Travis Iurato, assistant curator for the exhibit, who said the artwork is another way for the public to be informed about the uranium issue.
Artists attended a four-day intensive education program, which immersed them in the landscape where uranium mining and contamination has occurred on the Navajo Nation. The artists learned from Navajo community members, scientists, health care professionals, mental health professionals and other experts on the impacts of uranium mining.
One of those stops was with Milton Tso, Cameron Chapter president at the chapter house. The artist, project staff and other uranium experts met with community members and were taken out to see various abandoned uranium mine sites in the Cameron area.
Shawn Skabelund, curator for the exhibit, said he was struck by how close the mines are to a community.
"I knew they were close to individual homes," he said. "To a community themselves, I didn't know that. They're living in the wind and the monsoon rains, especially out there where it blows so much with the wind — it just carries."
Iurato echoed that thought and both curators said that is the reason it is important the exhibit is there for the public to see.
"I think, me and many of the other artists had emotional experiences out there, just to see how close it was, how the mines weren't even being taken care of," Iurato said. "We went to some really hot spots out there and there were just sort of left. There were some where we had to drive through neighborhoods to get to these sites… it was terrible to see that and it was really eye-opening."
Klee Benally, a Navajo activist involved in many issues in and around the reservation, said "we are 'poise/end.'"
"Though we have faced nuclear colonialism and the extreme poisoning of our land, water, and bodies, we still maintain our dignity and hózhó (balance)," Benally said in an artist statement. "We are not victims, but survivors who continue to resist and fight for Mother Earth and our future generations. Poise/End is an immersive detox from nuclear violence."
Iurato said many of the artists who were not Native, who were from Flagstaff or Sedona, had no idea what the situation with uranium mines on the reservation really is.
That is also true for some artists who are from the eastern side of the reservation.
"As a member of the eastern Diné people, I was unaware of the vast and deep contamination of the land in western Navajoland," she said. "I was overwhelmed: mentally, physically, spiritually…"
Because the issue is so complex, exhibit comes with educational events/workshops, as well. They are scheduled with the Festival of Science and are meant to give a deeper understanding of the impacts of uranium mining in northern Arizona.
Hope and Trauma in a Poisoned Land Exhibition events schedule (all events will take place at the Coconino Center for the Arts):
Aug. 15-Oct. 28 — exhibition open Tuesdays through Saturdays 11 a.m. to 5 p.m.
Sept. 8 — Sihasin in concert, 7:30 p.m.
Sept. 23 — public reception, 6 p.m.
Sept. 26 — the environmental and biological impact of uranium, 5: 30 p.m.
Sept. 29 — SCI talks, 6 p.m.
Oct. 17 — I-Witness: artist talk with Pash Galbavy, 6:30 p.m.
Oct. 24 — cultural and psychological impact of uranium, 6:30 p.m.
Hope and Trauma, is funded in part through a grant from the National Endowment for the Arts. The Coconino Center for the Arts' is located at 2300 N. Fort Valley Rd.  The gallery is open Tuesday — Saturday 11 a.m. to 5 p.m., all exhibitions have free admission. More information on all exhibitions and event can be found online at flagartscouncil.org or by calling (928) 779-2300.
---
SUBMIT FEEDBACK
Click Below to: