Williams schools announce April Students of the Month
Originally Published: April 25, 2017 1:42 p.m.
Williams Unified School District (WUSD) recently announced the April Students of the Month.
The kindergarten student of the month is Laine Hill. Laine has made big improvements this school year and is now participating in class and trying very hard in his school work. We are so proud to see him behaving well, doing his work and sharing in class. Laine never gets his name on the board and is being very respectful. Hooray Laine, keep up the good work.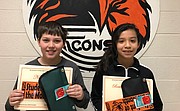 The first grade student of the month is Rowen Caldwell. Rowen has been working incredibly hard to do her very best this past month in every sense of the word. Her work has been beautiful, accurate and finished in a timely manner. Her participation in class has been wonderful, and her behavior regarding following the rules has been the best of the year. We are so very proud of her and the wonderful student and citizen she has become.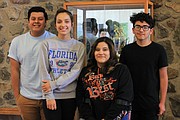 The second grade student of the month is Molly Kennelly. Molly is a polite young lady who is always willing to help in class. She has great character traits. She is kind, caring, and helpful. She completes assignments, works well with her peers and brings a quiet joy to our classroom. It is remarkable both teaching Molly and learning from her this school year. Congrats to her for helping to make the class wonderful this school year.
The third grade student of the month is Giuliana Fairlie. Giuliana is a great helper with others in the class. She loves to help with any projects or run errands. Although she is very quiet in class, she participates and attempts to answer questions. We really enjoyed having her in class and will be so sad to see her move on to a new teacher in fourth grade; her teacher will miss seeing her in the classroom each day.
The fourth grade student of the month is Avery Morell-Strange. Avery has been making some big improvements in his school work and attitude. He is turning all his work and giving his full effort in class. He is really showing that he is here to learn and excited to do so.
The fifth grade student of the month is Nakaila Singer. Nakaila is an amazing young lady. She is an excellent example for all of her peers of what one can accomplish when one sets their mind to it. She never ever says that she can't do something and always has a positive attitude. She may have to work harder than other students on their regular everyday assignments, but she never gives up and never backs down. She is an advocate for herself and will speak up if she feels that she has been wronged, or maybe needs a little extra time or help with an assignment or task. She is very outspoken and isn't afraid to express herself. She writes interesting and entertaining stories and illustrates these stories many times with phenomenal pencil sketches. She is destined for great things and has every potential in the world to be a strong leader in anything she chooses.
Noah Walker is the middle school male student of the month. Noah always completes work with great effort, follows directions well and shows an advanced understanding of middle school mathematical concepts. He speaks up when he does not understand something, exudes a pleasant demeanor, and has an overall positive attitude about school and life. He is a wonderful example of excellence for his grade.
Brittany Ramirez is the middle school female student of the month. Brittany is a conscientious, hard-working and respectful young lady. She displays wonderful manners to peers and staff, completes work in a timely manner and has no problems behaving or following school rules. She is performing above grade level in math and is not afraid to ask for clarification whenever it is needed. Her charming disposition only adds to why Brittany is truly a joy to have in class for all teachers
SUBMIT FEEDBACK
Click Below to:
More like this story