Vikings and Spartans go head to head
Maegan Ford, Jazlyn Romero and Tate Grantham snag homeruns
Originally Published: April 25, 2017 1:53 p.m.
The Lady Vikes rolled in two more wins April 19-20 when they faced the Ash Fork Lady Spartans.
The Lady Vikings easily cruised to a 16-5 win April 19 and a 22-6 win April 20. Behind freshmen power hitters Maegan Ford and Jazlyn Romero, the Lady Vikes won with two over the fence homeruns for the Vikings.
Viking baseball player Tate Grantham received Player of the Game accolades after hitting a game changing homerun to straightaway center against Ash Fork April 20. Grantham went 2 for 3, with three RBIs and three runs scored.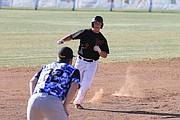 The junior began a rally for the Vikings, after trailing 8-2 after the first inning in the second of two games with the Spartans. The Vikings were coming off an 8-5 loss in the first game with the Spartans.
Pitcher Christian Ramirez brought home the win with five strike-outs, 10 earned runs and 12 hits. He just had two walks.
Frankie Kramer went 1 for 3 with 3 RBIs and two walks. Carsten Brinkworth went 2 for 4 with one RBI, Quinn Howell went 2 for 3 with one RBI, and Jerek Racher went 1 for 3 with one RBI.
Zack Perkins had three stolen bases, and Kolby Payne and Daniel Lopez each snagged two.
Kramer's single in the sixth inning broke the 12-12 tie with Ash Fork with a single to center that brought in Brinkworth.
During the April 19 game, Lopez went 2 for 4 with a double, Kramer and Perkins went 1 for 3 and Grantham went 1 for 2 in the home game loss. Racher went 1 for 1 with a triple.
Kramer pitched five innings with seven strike-outs, two earned runs and three hits.
The wins move the Lady Vikings to 7-2 in the 1A Central section and 11-8 in the 1A Conference. They are second in the section behind Mogollon.
The Vikings baseball team is now 6-3 in the section and 14-9 in the conference.
The Vikings teams face Joseph City April 25 and Bagdad April 26 at home in their last regular season games. State playoff games begin April 29.
SUBMIT FEEDBACK
Click Below to:
More like this story