Phantoms girls' relay teams excel at Mogollon, Winslow
Shot putters Kaska, Jetter-Nanacasia secure spots in state track meet

Originally Published: April 25, 2017 11:27 a.m.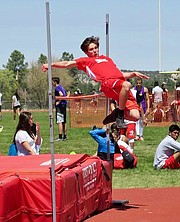 GRAND CANYON, Ariz. — The Phantom track and field team continues to set new records and break old ones as the 2017 season winds down.
The team competed at Mogollon High School April 14, where they placed second among all Division 4 schools. The girls' 4x400 relay team (Mariela Montano, Cayli Miles, Savannah Perkins and Meaghan Donehoo) set a new school record, placing third in the competition. The girls 4x800 (Makiah Kennedy, Monica Dimas, Perkins and Montano) also placed third and shaved one second off their previous school record.
Individual competitors also set new personal records, including: Emma Perkins, 100m dash and long jump; Kyla Pearce, long jump; Cayli Miles and Mattie Donehoo, 400m run; Mariela Montano, 100m high hurdles; and Tyra Briones, Cassidy Free, Markeith Donley, Neegoh Kaska and Herman Yellowhair, discus.
The Phantoms continued their streak April 21 at Winslow, where both Kaska and Meme Jetter-Nanacasia secured spots in shot put at the state meet. Kaska threw 41-8, breaking his previous school record and ranking him 16 out of 231 competitors in Division 4. He also earned a spot in the discus throw with a distance of 120-2 and a rank of 22 out of 240 competitors. Jetter-Nanacasia is currently ranked 19 out of 199 shot putters and earned a new personal record with a throw of 29-4.
The top 26 individuals in each event will travel to the state meet, along with the top 18 relay teams in each event.
The girls 4x400 relay team is currently ranked 19th in Division 4. The top 18 relay teams in each event are automatically entered into the state meet — coach Elna Perkins said the girls have a chance to go to Mesa if they can shave three seconds off their time at the final meet at Snowflake April 26.
The girls 4x100 relay (Cayli Miles, Kyla Pearce, Mariela Montano and Emma Perkins) is also making strides — the team set a new school record with a time of 56:26, breaking the previous record set back in 1983.
The boys 4x100 relay team (Travis Moreno, Rufus Keebahe, Melakai Longhoma and Aleryn Reid) set a new season record. Mason Tacey set a new personal record in the mile at 5:32. Cale Wisher, who ran the mile at 5:05, has a chance to drop below five minutes at the last meet of the season. Other athletes set personal records, including Daniel Cockrum, Kyla Pearce, Mattie Donehoo, Tyra Briones, Herman Yellowhair, Markeith Donley, Cayli Miles and Mariela Montano.
SUBMIT FEEDBACK
Click Below to: