Padillas honored for work with folklorico youth dance
Originally Published: April 25, 2017 8:43 a.m.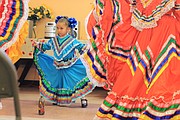 Armando and Elva Padilla were recently chosen for the 2017 Caring for Children award by the Coconino Coalition for Children and Youth (CCCY).
CCCY annually recognizes outstanding individuals from throughout Coconino County who work to make a better place for the youngest members of their communities.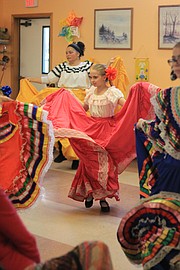 Longtime residents of Williams, the Padillas have spent the past 37 years as volunteer instructors teaching the Hispanic folklorico dance discipline. They have offered folklorico dance classes to children and adults in Williams for nearly 25 years.
Seles Howe, Rose Newbold and other community members nominated the Padillas for their longstanding work with youth in Williams.
"As we have a large population of Hispanic citizens, their generosity in providing this cultural enrichment to our community is truly invaluable," Howe said in the nomination letter.
Awardees were recognized at the Annual Kickoff Child Abuse Prevention Luncheon March 30 at Little America in Flagstaff.
The Padillas volunteer their time to teach multiple ages several times each week, with performances scattered throughout the year.
Their students have performed at schools, the senior citizen center, the country fair, parades, talent shows and other local festivals.
"They teach so much more than dance," Howe said. "They teach respect and how to have confidence to get up in front of people."
A Mexican tradition, the folklorico dancing style involve rhythmic foot stomping, graceful stepping and turning and intricate swirling of colorful skirts.
Armando started learning folklorico dancing when he was 33 years old. Although he was intimidated at first to be learning alongside younger students, he stuck with it.
After taking lessons for some time, Armando began teaching, something he enjoyed and was good at.
After he married, Armando's wife, Elva, became involved as well. When the group first started out, about 40 students were involved. The numbers go up and down each year.
The Padilla's classes involve brushing up different dances, learning steps and getting familiarized with the music.
According to the Padillas, teaching the complex steps of folklorico does not intimidate the younger dancers. Instead, the learning process creates a spirited dynamic with the older pupils.
Folklorico dancing tradition in Williams spans generations. The Padillas have seen students they taught as children now bringing their children in for lessons.
During practice, the girls wear practice skirts. For performances, the girls wear more formal dresses. The Padillas have received donations from private individuals and the city of Williams to pay for the skirts the dancers wear. The students also wear special dance shoes.
Since the classes are mostly girls, the students don't learn the dance steps they would normally do with a partner. However, the groups have learned how to improvise and do solos with imaginary partners to make it work.
Besides learning dance steps, folklorico dancing also teaches students camaraderie, commitment, discipline and poise.
"They come in here like little flower buds. They come hiding behind their parent and they don't want to look at you," Elva said previously. "After a little while when they start dancing, they come out and they start learning to introduce themselves. And here comes this little bud and it opens up. It gives them a lot of confidence and self-esteem. That's the reward that we get."
The students practice on Tuesdays and Thursdays from 5:30 to 6:30 p.m. in the Williams Rodeo Barn. The dance classes are free and open to all ages and experience levels.
More information about the Williams Folklorico Dancers is available at (928) 380-4637.
SUBMIT FEEDBACK
Click Below to:
More like this story