NPS employees receive regional, national honors
Galen Howell recognized for 11 years of safe flying, providing mentorship and training to new pilots

Originally Published: April 25, 2017 12:16 p.m.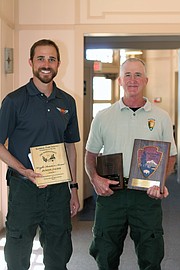 GRAND CANYON, Ariz. — Three Grand Canyon National Park employees were recently presented with regional and National Park Service (NPS) awards.
Superintendent Chris Lehnertz, who presented the awards April 20, said the accomplishments of outstanding individuals are forwarded to either the intermountain regional office in Denver, Colorado, or the national office in Washington, D.C., where they are selected by leadership.
Li Brannfors, fire effects monitor, received a regional 2016 Fire Management Achievement Award for excellence in wildland fire management technology. In 2016, Brannfors spent three weeks traveling to Grand Teton, Rocky Mountain and Yellowstone National Parks to work alongside other fire effects monitors.
"Li worked tirelessly, including evenings and weekends, to make sure our Park Service colleagues, not just at Grand Canyon but the other parks as well, were prepared to implement this important technology during the field seasons," Lehnertz said.
Interagency Aviation Officer Justin Jager received the regional Wright Aviation Award for his work with unmanned aerial systems (UAS) and leading an accident-free fire season at Grand Canyon National Park as well as the Kaibab and Coconino National Forests.
Lehnertz praised Jager's work with the nation-leading UAS program — remote-controlled drones capable of monitoring inaccessible or difficult to access areas of the park below the rim.
"Justin has been a huge part of envisioning this program at Grand Canyon," she said. "He is helping people across the park service understand that it (the UAS program) reduces our risk, increases our effectiveness and gives us a tool that is meant to be employed broadly."
Lehnertz said Jager was also appointed to be the NPS representative to the UAS working group.
The last award recipient was Galen Howell, who received two national awards — the 2016 Award of Distinction and the National Park Service Award for Aviation Mentoring.
The Award of Distinction recognizes Howell's record of safe flying for 11 years.
"Aviation is an incredible tool for parks like Grand Canyon," Lehnertz said. "It helps us with resource protection, visitor safety … it's also one of the most complicated things we do. You have to have a super strong commitment to not only making sure that you do a mission and come home, but for making sure that anyone who's with you on that mission gets to come home as well, and is prepared if something doesn't go right. Eleven years of safe flying is an extraordinary record."
Howell's second award recognizes his role as a Federal Aviation Administration (FAA) certified flight instructor and Department of the Interior mentor pilot. In the eight years Howell has been a flight instructor and mentor pilot, he received two in-flight action awards for successfully handling in-flight emergencies. Howell has provided instruction to both new and experienced pilots, as well as non-pilots, on handling in-flight emergencies.
SUBMIT FEEDBACK
Click Below to:
More like this story