Utility repairs top Grand Canyon's deferred maintenance needs
Trans Canyon Pipeline, North Rim water system make up majority of park's $370 million repair estimate
Originally Published: April 11, 2017 11:08 a.m.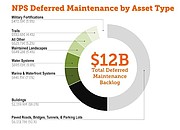 GRAND CANYON, Ariz. — As the National Park Service faces an uncertain budgetary future, two senators introduced a bi-partisan bill aimed at chiseling away the agency's $12 billion deferred maintenance backlog.
Sens. Mark Warner (D-VA) and Rob Portman (R-OH) introduced the National Park Service Legacy Act March 28. The bill calls for Congress to make appropriations specifically aimed at reducing and eventually eliminating the backlog. If signed, the legislation would appropriate $50 million per year from 2018-2020; $150 million per year in 2021-2023; $250 million for 2024-2026; and $500 million per year for 2027-2047. The appropriations would be funded by revenue the government receives from oil and natural gas royalties.
"More than 100 years after the founding of the National Park Service, our park system remains in a critical state of disrepair," Warner said. "While we've heard much talk here in Washington about infrastructure spending, a great way to begin this work is by helping in the revitalization of our public lands."
Warner said the investment would earn about $10 in economic activity for every public dollar invested.
The backlog, which stretches across the entire agency and includes parks in every state, includes about $6 billion in deferred maintenance for paved roads, tunnels, bridges and parking lots. Building repairs make up about $2 billion, while trails, military fortifications, maintained landscapes, marina and waterfront systems, water infrastructure and other assorted projects make up the remaining $4 billion.
At Grand Canyon, water infrastructure tops the list of needed repairs, according to Don Curnutt, chief of facilities management.
Currently, Grand Canyon has about $370 million in deferred maintenance needs across the board, but the majority of that cost, Curnutt said, are critical repairs for utilities and water systems. Curnutt said the replacement of the Trans Canyon Pipeline is a top priority and will cost approximately $160 million.
The Trans Canyon Pipeline was built in 1965 and carries water from Roaring Springs on the North Rim to all facilities at the South Rim, including Grand Canyon Village. Water travels via gravity from Roaring Springs across the Canyon to Indian Garden pump house, where it is pumped up to facilities on the South Rim.
The pipeline, constructed from aluminum, is 16 miles long and has been undergoing piecemeal replacement and repair for the past several years. Since 1978, the pipeline has experienced anywhere from five to 30 major leaks each year, causing the park at times to implement emergency water hauling or conservation measures. Last year, a pipeline break in the midst of summer's hottest months led to a lack of water at popular campgrounds, and in 2013, a pipeline break required the evacuation of guests and employees from Phantom Ranch.
Because of these issues, the park is looking at replacing the entire length of the pipeline to prevent more costly breaks and leaks. Curnutt said the park is currently looking at two options for replacement.
"The pipeline has simply outlived its lifespan," Curnutt said. "It's time for a full replacement."
Later this year, the park will also address another water system, this time on the North Rim, where Curnutt said approximately 50 percent of water carried by the distribution system is lost to leaks and breaks. The park will also look at upgrading water system lines that carry wastewater to the treatment plant, as well as recycled water lines.
Infrastructure repairs come with a hefty price tag, which must be addressed by both the park and Congress. Curnutt said about 50 percent of the funding comes directly from federal funds allocated by Congress, while the remaining half is split between guest fees — gate fees or concessions purchases — and project monies set aside by the park from the overall budget. Money from Grand Canyon Association, the park's non-profit partner, is used to repair, rehab or maintain trails.
The Trump administration's proposed budget calls for a $1.5 billion cut to the Interior Department, under which NPS operates. The entire budget of the NPS was $3.1 billion for 2016.
So where will the money to address Grand Canyon's deferred maintenance come from if the agency receives less funding?
Unfortunately, Curnutt said, there aren't a lot of options besides federal funds and the monies the park receives from visitor fees.
"A small cut we can live with," he said. "If it's a 2 to 3 percent cut to our budget, it wouldn't impact us greatly. When you're talking about $15-20 million per year, in the long term, that amount won't really affect the timeline (for these projects).
A significant cut, though, would be dramatic, he said.
"If you continue to ignore deferred maintenance, the problem is only going to get bigger," Curnutt said. "If we keep putting it off, we're only compounding the interest rate that we're paying in the long run."
SUBMIT FEEDBACK
Click Below to:
More like this story