Together, Everyone Achieves More: Disabled youth from YouthAbility teach Grand Canyon students the value of teamwork
Originally Published: April 11, 2017 11:03 a.m.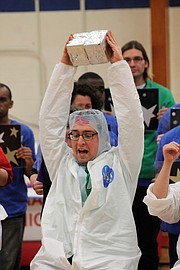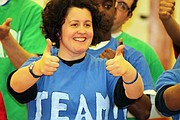 GRAND CANYON, Ariz. — Grand Canyon students got a lesson in teamwork March 30 from a special group of visitors — disabled teens and young adults from Cleveland's Youth Ability program spent a week learning about the Grand Canyon, performing for the students and raising funds for school programs.
The performance was led by about 20 students from the Horvitz YouthAbility program, which is offered through the Cleveland Jewish Family Service Association. The program provides opportunities for teens and young adults with disabilities to develop job skills, gain self-confidence and explore possible future careers through volunteer work at hospitals, animal shelters, libraries, museums and restaurants. The program also provides field trips for participants to learn about the world.
The YouthAbility students spent a week at Grand Canyon, learning about history, geology and ecology through the park's educational outreach program. At the end of the week, they visited Grand Canyon School to perform a play they created to help others understand the value of working together.
The students performed popular songs, changing the lyrics to reflect how groups of people used teamwork to persevere in tough situations. A group of students sang renditions of Rachel Platten's "Fight Song," David Bowie's "Space Oddity" and the collaborative "We Are the World" while their fellow performers acted out situations in which the only way to achieve a positive outcome was by working together.
The students highlighted the story of 33 Chilean miners trapped nearly a mile below the surface for 10 weeks before being rescued — all 33 men survived. From a mile below the surface, they brought the audience all the way into space, where three Apollo 13 astronauts worked with Mission Control to stabilize their oxygen supply after an explosion aboard the spacecraft. Mission Control then helped guide the astronauts to a safe water landing. The students then performed "We Are the World," a song recorded by many successful musicians to raise $60 million for victims of famine worldwide.
According to program director Heidi Soloman, Teamwork is one of the core principles of YouthAbility: the group has built park trails, planted and tended community gardens, delivered lunches, assisted Holocaust survivors and performed all over the world — all while donating more than $20,000 to charity.
"We believe that we help ourselves by helping others," Soloman said. "One of the things we do to promote teamwork is supporting other really great programs."
The group also presented Grand Canyon School with a check for $1,500, which the YouthAbility students raised themselves.
Vice principal Lori Rommel accepted the gift and said the school plans to use the funds to promote team building activities among students and staff.
SUBMIT FEEDBACK
Click Below to: