Grand Canyon students get a taste of job hunting at annual job and volunteer fair
Kyla Pearce/Special to the Grand Canyon News
Originally Published: April 11, 2017 10:53 a.m.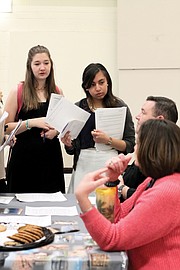 GRAND CANYON, Ariz. — A record number of businesses turned out for Grand Canyon High School's annual job fair April 6.
This event is organized each year by the National Park Service in correspondence with the school administration with a goal of educating students about the variety of jobs available in their community.
Cheri Benefield, a school administrator helping to organize this year's event, said around 25 businesses from the Grand Canyon and Tusayan area attended this year.
"We had probably 20 or 25 businesses that came in," Benefield said, "The students had their resumes ready and they were dressed nicely, so it was really an exciting event."
Some of the companies attending the job fair this year included Xanterra, Grand Canyon Association and Youth Conservation Corps. The students were able to talk to company representatives, ask questions, receive applications, and hand in resumes. Benefield said that this year, many of the companies were also giving advice about pursuing long-term careers.
"At this year's fair not only were they [the companies] presenting a lot of summer job opportunities, but they were also presenting a lot of career opportunities for the kids. They were really excited to talk to them about getting a summer job that can lead onto further opportunities," she said.
In the weeks preceding the job fair, students were able to work one-on-one with teachers and other professionals learning about the interview process and resume building. Students were given the opportunity to write a resume and have it edited by teachers and hiring professionals. The Grand Canyon Rotary Club alongside Cheri Benefield held a professional clothing drive for students as well.
For high school students, having a job during the summer is extremely important. Not only does it give students the opportunity to work over the summer, but also teaches students vital skills that will help them apply for careers after high school. Being able to talk to local businesses and receive the help and support provided by the annual job fair is very helpful to the students and will benefit them in their future endeavors.
SUBMIT FEEDBACK
Click Below to:
More like this story