Lela Schober wins 2016 Arizona Rural Teacher of the Year
Originally Published: September 27, 2016 12:26 p.m.
WILLIAMS, Ariz. - The 2016 Coconino County Rural Teacher of the Year, Lela Schober, has been selected as the 2016 Arizona Rural Teacher of the Year by the Arizona Rural Schools Association (ARSA). Schober is a language arts teacher at Williams-Elementary Middle School.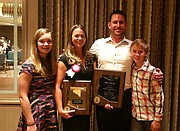 Each year ARSA presents two prestigious awards to outstanding Arizona educators: the County Teachers of the Year Awards and the Arizona Teacher of the Year award. Award winners receive plaques acknowledging their achievements and recognition. The Arizona Teacher of the Year award winner also receives a check for $1000 as well as an all expense paid trip to the annual National Rural Education Association Convention. All State winners also have their their names engraved on a large plaque that is housed at Northern Arizona University.
A committee chose the ARSA's county teachers of the year after considering the applicants' teaching experience, teaching philosophy, instructional methods, leadership qualities and classroom innovations. Schober and the rest of the county Rural Teacher of the Year winners went to Phoenix Sept. 16 for an interview process to determine the Arizona Rural Teacher of the Year. Schober was selected as the Arizona Rural Teacher of the Year and will go to The Ohio Union at Ohio State University in October for the National Rural Education Association's (NREA) National Forum and 108th Convention and Research Symposium.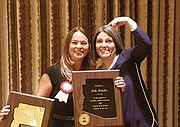 ARSA and NREA are dedicated to improving instruction and promoting quality education for all students in rural schools throughout the state. Their goal is to provide a unified voice for rural schools and districts to local school boards, legislative bodies, and elected public officials. They support the integrity of rural school districts and honor the educators who represent the best our state has to offer.
SUBMIT FEEDBACK
Click Below to:
More like this story