AzMerit scores show progress in some rural schools
Originally Published: September 27, 2016 11:58 a.m.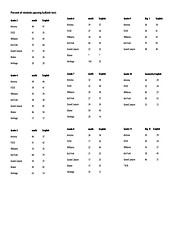 WILLIAMS, Ariz. — The Arizona Department of Education released the final AzMerit statewide assessment for all Arizona schools to the public Sept. 16.
The 2015-2016 AzMerit results showed marked improvement over the first year of testing for many rural schools in the Williams-Grand Canyon area.
Students in grades three through twelve took the tests in April and May of 2016 and results were distributed to schools in July of 2016. The tests assess the Arizona College and Career Ready Standards adopted by the Arizona State Board of Education in 2010 but only include the subjects of math and English-Language Arts (ELA). Of Arizona's 1.1 million students, 38 percent were proficient in both the math and ELA portions of the AzMerit. Those scores are up from the 34 percent passing rate for ELA and 35 percent passing for math in 2015.
Of the five local school districts in the Williams, Ash Fork, Grand Canyon and Parks areas, Ash Fork Unified School District had the highest passing percentages of the schools with 60 percent of the district passing the math portion of the test and 61 percent passing the ELA portion. Williams Unified School District and Maine Consolidated School District followed with 37 percent of Williams students and 38 percent of Maine students passing math and 39 percent of Williams and 38 percent of Maine students passing ELA respectively. Grand Canyon Unified School District had 28 percent passing math and 28 percent passing ELA, and Heritage Charter School had 35 percent passing math and 17 percent passing ELA.
Elementary Schools
Of the five local elementary schools in the Williams — Grand Canyon area, Williams and Ash Fork surpassed the state average in math, and Ash Fork and Maine Consolidated surpassed the state average in ELA. Williams, Ash Fork and Maine Consolidated also surpassed the Flagstaff Unified School District (FUSD) passing rate for math and ELA.
All five local elementary schools showed gains at the third grade level when compared to the 2015 test results. Williams showed the most improvement going from a 24 percent math passing rate in 2015 to a 55 percent passing rate in 2016. Williams also showed tremendous gains in ELA going from 13 percent in 2015 to 45 in 2016. Ash Fork and Maine School third grade students also reported gains.
"Overall, I am very pleased with our school's performance on AzMerit this past year. We had growth on every single AzMerit test at every single grade level," said WEMS Principal Carissa Morrison.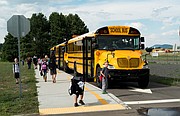 Four of the five area schools had significant increases in percent passing for fourth grade math and ELA results. Ash Fork was the only school with a decrease in percent passing. The school went from 79 percent passing math in 2015 to 38 percent passing in 2016. For ELA 74 percent passed in 2015 and only 38 percent passed in 2016.
However, Ash Fork fifth graders had the highest passing percentages of any elementary grade in all the districts. Eighty-four percent of Ash Fork fifth graders passed the math test in 2016 and 79 percent passed ELA. Heritage School closely followed with 63 percent of fifth graers passing ELA.
Ash Fork Unified School District Superintendent Seth Staples said he was pleased with the results of the Ash Fork fifth graders.
"Not only did 84 percent pass, but 58 percent of that class was highly proficient." he said. "We want to make sure that we're helping those who aren't getting it but we also want to make sure we are pushing those who are getting it."
Middle Schools
The Williams-Grand Canyon area middle schools showed mixed results on the AzMerit test with most scores hovering around the state average. Maine School, Ash Fork, Heritage and Williams were at the top for percent passing although none of the schools matched both the math and ELA percent passing for the state. All three schools surpassed FUSD schools.
Heritage School showed 51 percent of their middle schoolers passing the mathtest, far above the state average of 32 percent. Ash Fork middle schoolers followed with 39 percent passing. Williams and Grand Canyon were below the state average with just 25 and 21 percent passing respectively..
Heritage School's sixth graders had 100 percent passing for math in 2016. Ash Fork followed with 64 percent passing math and 50 percent passing ELA. Maine School seventh graders had 50 percent pass math and 45 percent pass ELA. Ash Fork had significant decreases in percent passing for math and ELA. Forty-three percent passed in 2015 and just 21 in 2016. For ELA, 48 percent passed ELA in 2015 and just 15 percent passed in 2016.
"These low passing scores concern us and we have already had some parent meetings with this class," Staples said. "We're really trying to change the class culture with that grade…take the steps that are necessary at home and at school. We're looking for some big growth…"
Williams eighth graders showed large increases from 2015 results. Just nine percent of students passed the math test in 2015 and 22 percent passed in 2016. For ELA, 20 percent passed in 2015 but 40 percent passed in 2016.
"I think there were many factors that contributed to this year's higher scores," said Morrison. All of our amazing students and staff worked together with a clear goal: academic achievement for all. We knew that our school was better than what last year's test results indicated and we wanted to prove that to ourselves and to our community."
High Schools
Ash Fork High School had the highest percent passing for both math and ELA for ninth, tenth and eleventh graders when compared to other Williams-Grand Canyon area schools. For ELA, 60 percent of Ash Fork high school students passed the test. For math, 44 percent passed. These scores far surpassed the state averages of 31 and 33 and FUSD averages of 31 and 27 respectively.

"I was most pleased with the success at the high school level," said Staples. "We had huge gains there. We met with teachers and staff over the summer and discussed what we want an Ash Fork graduate to look like. We made some staff changes and the current staff changed their instructional methods. The biggest problem we had was low expectations so this year we focused on mandatory homework, getting our expectations up and teaching at or above the high school level."
Ash Fork ninth graders showed 83 percent passing the ELA test and 75 percent passing Algebra I. Williams had 43 percent pass ELA and 50 percent pass Algebra I.
"Our freshmen did really well on both the ELA and math tests," said WUSD Superintendent Rick Honsinger. "The first thing we did was define what curriculum we were using. Next, we owned the previous year's scores and started breaking them down to find out what we needed to work on."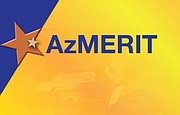 Williams tenth graders led the three schools in geometry with 40 percent passing the test. Ash Fork led the ELA results with 53 percent passing.
Grand Canyon eleventh graders had the highest percent passing for Algebra II at 46 percent. Ash Fork led the ELA results with 45 percent passing. Williams math and ELA passing rates improved from 2015 but were still significantly lower than the state averages.
"Honestly I think we can improve on each AzMerit test at every grade level," said Honsinger. "The students are more prepared this year than the students in that same grade level last year, so they are prepared to do better overall."
---
SUBMIT FEEDBACK
Click Below to: