National Geographic article focuses on Grand Canyon thru-hike and tourism developments
Originally Published: September 13, 2016 2:10 p.m.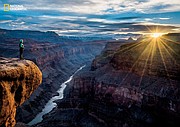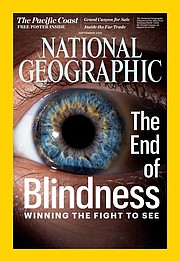 FLAGSTAFF, Ariz. — In mid-October, author Kevin Fedarko and National Geographic photographer Pete McBride will finish the final leg of a nearly 670 mile hike through the heart of Grand Canyon where they have taken an in-depth look at what they consider to be a growing number of threats surrounding the canyon.
While on assignment for National Geographic magazine, Fedarko and McBride spent the last year battling blistering heat, frigid temperatures, grotesque, painful blisters, stab wounds from barrel cactus, extreme fatigue and hyponatremia — a water toxic condition caused by an imbalance of sodium levels which can result in death if left untreated.
In addition to the rigors they faced on the trail, the duo took an up-close look at a series of what they consider to be specific threats to the Canyon. In the recent release of the September issue of National Geographic magazine, Fedarko and McBride are attempting to raise awareness of these issues, which include uranium mining and development on the South Rim, in the gateway town of Tusayan, development on the Canyon's eastern border with the Navajo Nation and the number of helicopter tours overwhelming western Grand Canyon.
Fedarko spoke about the sectional thru-hike during a presentation at Northern Arizona University in Flagstaff Sept. 9.
"There is a world inside the Grand Canyon that starts at the edge of the river and extends to the rim on either side of the Colorado," Fedarko said. "That world is brutal. It is harsh. It is incredibly beautiful and it is utterly cut off from almost everybody. It contains secrets and insights that you can get nowhere else."
Fedarko, who took some convincing by McBride to set out on the year long trek, said he first became aware of how real the threats to the Canyon are after hiking to the Confluence, where the Colorado and Little Colorado Rivers meet. The site is considered sacred by many Native American tribes.
If approved, the master agreement for the Grand Canyon Escalade Project, an isolated area of the eastern rim of the Canyon, would authorize the Navajo Nation and Confluence Partners LLC, from Scottsdale, Arizona, to build a gondola tramway delivering visitors to the canyon floor in about 10 minutes. It would include a river walk in the canyon with an elevated walkway and a food pavilion. The area is located about 100 miles by road from Flagstaff.
"This place holds great sacred and religious and spiritual significance for many people — most importantly and foremost the Native American tribes whose ancestral lands either lie inside or directly abut this area of the Grand Canyon," he said. "I began getting a visceral sense of how serious and how real this is — this tramway that is capable of delivering 10,000 people per day to a site considered sacred and which rarely sees more than a few dozen people on any given day of the year."
When hiking to the Confluence, using the Walter Powell Route, Fedarko and McBride were met on the rim by Renae Yellowhorse, who is part of a group called Save the Confluence. The group is made up of Navajo families in the proposed development area who are opposed to the project. Yellowhorse shared a meal of mutton stew with the hikers and told them of her concerns the development at the confluence would have on the land and the Navajo people.
After leaving the Confluence, Fedarko and McBride wound their way through the next section of the hike. During part of the hike, Fedarko and McBride were accompanied by Rich Rudow and Chris Atwood, who were completing their own thru-hike. Fedarko admits he and McBride were unprepared for the rigors of the hike and said without the help of local backpackers, hikers and Canyon experts, they would not have made it very far.
The trip requires careful planning in order to manage water and food caches for hikers. Many miles of the hike requires walking on either one side or both sides of the Canyon in very remote areas. In his article, Fedarko describes steep slopes and treacherous cliffs where there was little or no trail to follow. Those attempting a thru-hike must cross boulder fields and navigating along cliff tops and ledges.
Fedarko spent six seasons working on the Colorado River and was familiar with the 277 river miles through the Canyon. However, at a minimum, a thru-hike covers over 600 miles. According to previous thru-hikers, for at least 75 percent of the journey on the south side, there is no trail. On the north side, there is no trail for over 90 percent of the journey.
After emerging from one section of their hike, Fedarko and McBride visited Canyon Mine located just outside the town of Tusayan and around six miles from the South Rim entrance to the national park. They spoke with operators of the uranium mine and members of the Havasupai tribe, who oppose the operation.
"A company official officially dismissed the possibility of a major accident," Fedarko wrote in his article. "But according to U.S. Geological Survey data, 15 springs and five wells inside the Grand Canyon area have levels of uranium that are considered unsafe to drink, due in part to incidents in older mines, where erosion and problems with containment have allowed uranium to leach into groundwater."
Fedarko also touched on plans for a development outside Tusayan by Stilo Development Group USA. In the past, Stilo representatives said the proposed development could include hotels, restaurants, retail, entertainment and educational attractions. Developers are currently waiting on road easement approval from the U.S. Forest Service to its properties, located east and west of Tusayan. The private land parcels to be developed lie within the Kaibab National Forest.

Fedarko also talked about the impacts of increased tourism on the western rim of Grand Canyon. According to Fedarko in 2015 helicopter tours in western Grand Canyon helped draw over a million visitors to Hualapai land and in area known as Helicopter Alley. National Geographic counted 262 flights in five hours. Fedarko said on busy days there can be 450 or more flights.
"You owe it to yourself and to the Canyon to go out there and see what's being done," he said. "It's important not only to see what's being done through your own eyes but to form your own impression of whether it's right, wrong or somewhere in between."
Fedarko said the development of Grand Canyon is not discreet and are designed to bring in tourism. He said once it starts, there will be no ceiling to the demand.

"The point that I want to make is that this place, this national park stands at a hinge point right now," he said. "What happens here matters elsewhere. What happens inside Grand Canyon — good, bad or indifferent reverberates throughout the entire park system and entire system of public lands inside the United States. This place matters."

Fedarko said an important milestone in his hike came after his visit to the Confluence.
"It's the point where I found myself haunted by a question," he said. "The question was I was wondering whether it might not be possible that Pete and I were seeing the wonders of this in-between world, suspended between the river and the rim, not only for the first but perhaps for the last time."
Fedarko and McBride plan to finish the final section of their thru-hike in mid-October. Their hike will end at the Grand Wash Cliffs in western Grand Canyon. Fedarko's article and McBride's photographs are available in the September issue of National Geographic magazine.
On Sept. 14 Fedarko, in partnership with the Grand Canyon Trust, will give a public presentation at Desert Botanical Garden, 1201 N. Galvin Parkway, Dorrance Hall Phoenix, Arizona at 6 p.m. More information is available at www.grandcanyontrust.org/grandest-journey.

SUBMIT FEEDBACK
Click Below to: