Fusion of contemporary classical and traditional Hopi music debuts at MNA
Grand Canyon Music Festival debuts new genre of Hopi music combining classical with traditional
Originally Published: September 13, 2016 2:09 p.m.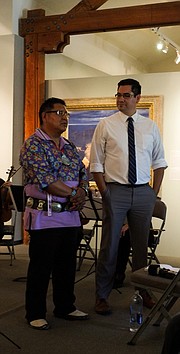 GRAND CANYON, Ariz. —There's a new brand of music floating across the airwaves of northern Arizona and it sounds good.
According to the Grand Canyon Music Festival website, Puhutawi is a new genre of Hopi music that fuses traditional Hopi music with contemporary classical. The five-year endeavor birthed a concert-length composition, which pays homage to the Grand Canyon.
On Aug. 25 Puhutawi debuted at the Desert View Watchtower. It opened for the 33rd annual Grand Canyon Music Festival and helped kick off celebrations for the 100th anniversary of the National Park Service.
Puhutawi is the work of Trevor Reed, a Hopi composer from New York and Clark Tenakhongva, a NAMMY (Native American Music Awards) nominated artist of traditional Hopi ceremonial music. According to Reed, combining traditional Hopi and contemporary classical was no easy task. He and Tenakhongva spent more than four years compiling the seven songs that make up the Puhutawi composition. Blending the genres took time and both were careful to create pieces that were relatable for both musical audiences.
"What it came down to it, for Clark and I, was that we wanted it to grow out of a Hopi way of listening and hearing," Reed said. "From there we built an orchestra sound we hoped reflected that. We were very cautious and careful because when you're combining something that has a very colonized sound - the string sound, which has been imposed on Native people for a long time, and trying to take that and flip it into something that can signify something Hopi, it is a real challenge and also dangerous. We took a lot of risk and we're hoping that pays off, if not now then maybe as we keep working at it."
Tenakhongva agreed.
"(Combining the genres) was difficult, because I've never formally played any kind of instruments," he said. "I got kicked off the band at Winslow because I was too crazy. I've always played by vision and by ear. What I see and what I know how to hear."
The idea for Puhutawi came about after an initial song was composed and performed at one of the music festival's concerts four years ago. Since then, Reed and Tenakhongva have worked to finalize the composition.
For Reed, debuting Puhutawi at the Desert View Watchtower was a powerful, even spiritual moment, which was helped by the powerful monsoon rains taking place at the same time.
"The storm was performing better than the musicians," he said. "Literally, it would cut off in the right places and that deeply resonated with a lot of us. You can tell in the way (Hopi artists) make rain with their instruments that it was produced through experiencing those things."
When composing Puhutawi, Reed wrote it with east coast string quartets Catalyst and Ethel, in mind.
"We were thinking of musicians who were not necessarily Native but who were interested in getting outside the box," Reed said. "That's why we used sounds that were very close to typical orchestra stuff. We knew we couldn't go into Hopi tonality, we had to stick with something that means something to these musicians."
When composing Puhutawi, Tenakhongva had several requests for Reed; incorporate flute and string sounds from Asia in one song and old western movie theme music in another.
"I love the way that they have the flutes and the strings from Asia, how they play their music, so that was my contribution, saying, 'put that in there, see how it comes out,'" Tenakhongva said. "Also, the old western music, every time the Indians circled the wagons, we put some of that in the last song. Other than that the rest of it was all written by Trevor."
Finding the right tone and keeping the Hopi way of feeling the sounds internally, has taken several years to develop. Reed said finding the balance has been a pleasure and a challenge.
"We kept whittling it down and asking, 'what's the core sound that we're trying to get?'" he said. "We decided to do a full concert work that could stand on its own (and) we are still experimenting."
Reed said Puhutawi goes deeper than just blending cultures and ideas. It's about the sound itself.
"It's even deeper, it's a combination of the way sound even exists (and) what it does," he said.
Tenakhongva and The Catalyst String Quartet performed Puhutawi at the Desert View Watchtower, the Shrine of the Ages at the South Rim and the Museum of Northern Arizona in Flagstaff.
Tenakhongva's eight year old grandson Suy Maho, daughter Simana Tenakhongva, Jeffrey Koyiyumptewa, a student from Flagstaff High School and flautist Gary Stroutsos accompanied Tenakhongva during the performances.
SUBMIT FEEDBACK
Click Below to:
More like this story