Williams educator wins Rural Teacher of the Year
Wendy Howell
Originally Published: September 6, 2016 1:51 p.m.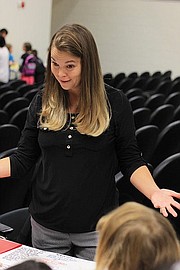 WILLIAMS, Ariz. - Lela Schober's role as a teacher extends beyond her classroom. Whether it's coaching the cross-country team, leading a drama production or taking her students to Las Vegas, Lela Schober is never one to slow down.
That is one of the reasons Schober was selected as the 2016 Coconino County Rural Teacher of the Year. Schober will be recognized Sept. 16 at the Arizona Rural Schools Association conference in Flagstaff.
"She really understands the influence you have in a rural school," said Williams Elementary-Middle School (WEMS) Principal Carissa Morrison. "It's not just about academics, it's so much more."
A committee chose the Arizona Rural Schools Association's county teachers of the year after considering the applicants' teaching experience, teaching philosophy, instructional methods, leadership qualities and classroom innovations. This fall, Schober and the rest of the county Rural Teacher of the Year winners will go to Phoenix for an interview process to determine the Arizona Rural Teacher of the Year.
Homegrown
Schober grew up in Valle and attended Williams Elementary-Middle School before moving to Flagstaff for high school. Her family moved to Williams after she graduated and opened a gallery and gift shop that specializes in genuine Native American jewelry, Navajo rugs, basketry and artifacts.
Schober worked in the shop for ten years and it was in the shop that she began to think about teaching.
"Your best sales technique is knowledge, so I learned a lot of different things about the things we sold so I could share that with the customers," Schober said. "One day somebody asked if I was a teacher and I said 'no' and they said 'well you should be'."
Schober decided to take some classes at Coconino Community College and then finished up at Northern Arizona University (NAU) with a degree in elementary education.
"I went to NAU specifically to get an educational degree to teach at this school (WEMS)," Schober said.
Schober began as a substitute at WEMS, hoping to get hired as an elementary school teacher when she completed her degree.
"I applied for the fourth grade," Schober said. "But the principal offered me a job and said he wanted to try me in the middle school."
Schober got certified to teach English and now says she enjoys teaching middle school. She is in her fourth year teaching seventh and eighth grade English-language arts at WEMS.
"I love it, it's perfect," she said. "Middle schoolers are amazing. You have to forgive them every day, but let them know the expectation is still there."
Schober said she works at connecting with each student so they see her as more than their teacher.
"It could just be a little thing like 'I saw you playing football yesterday or I know your grandpa'," Schober said. "It could be as simple as 'you're having a bagel, I'm having one too'. Anything like that where they see you as human."
Morrison said Schober enjoys lesson planning and curriculum development. She said she has creative and unique ways of teaching concepts to her classes.
"I remember going into her classroom and the students were reading about energy drinks," Morrison said. "It was relevant and it is engaging things they care about. She has a really active classroom. I don't think I've ever walked into her classroom and seen her kids reading a textbook and doing a worksheet. It's always higher level thinking, the kids love it."
Schober said she believes her role as a teacher is to guide them to the learning. She said she believes that students have the power to learn if they have access to information. She believes her role is to guide them to the information and give it purpose.
"I don't see myself as the know-all light at the end of the tunnel," she said. "I am the person that is going to take them to the light at the end of the tunnel, show them how to get there."
Schober is supportive of the common core standards. She believes they are rigorous and they naturally lead to interesting curriculum. She said the common core tells teachers what they are going to teach, but it doesn't tell them how they are going to teach it.
"I love developing curriculum. I am portfolio-based, project-based and performance-based," she said. "My kids are graded on how they actually interact with the standard after I have taught it to them. Yes, they have to take the standardized test but I believe my kids are learning at a higher level than the test, so when they go take the test they're ready."
Peer support
Schober's fellow teacher, Williams High School English teacher Robin Gutshall, nominated Schober for the Rural Teacher of the Year award.
"She's an interesting combination of intelligence and high energy," Gutshall said. "She is very creative, but practical. I just think she's a gifted teacher."
Gutshall said she has observed Schober for several years in the community and in the schools. She said she sees the results of Schober's teaching in her freshman class who were previously Schober's students.
Gutshall said this year her freshman class has been working on narrative descriptive writing and the students already knew the whole figurative language and narrative techniques that Gutshall was introducing.
"She really got them prepared not just with the basics," Gutshall said. "It's obvious she pushed them even further than that."
Gutshall said what was especially unique was that all of Schober's former students knew the lesson.
"Of course in a given classroom setting you have students who are struggling and students who are excelling and everybody in between," Gutshall said. "They all knew it. Every one of them. She reaches everybody."
Gutshall said it was Schober who stirred the middle school administrators to introduce the Beyond Textbooks idea of reteach and enrich classes last year.
"Lela was aware of other schools doing it and we weren't," Gutshall said. "She just took the bull by the horns and said 'I have a vision of how this can work at the middle school level'."
After school, Schober coaches the WEMS cross-country team. Schober started the team last year and has doubled her participants in her second year.
"...the response was impressive," Gutshall said in her nomination letter. "Many of the 'fall in the crack' kids went out for the sport. Her team was huge, and the kids had a chance to blossom athletically and socially. She also involved community members as coaches and volunteers."
Schober also brought back a drama program to the middle school.
"She opted to offer a drama class during her conference period last year," Gutshall explained. "They kids had a blast, they put together their own plays, their performances were passionate and quite good considering they had never done this before, and they adored their teacher."
Morrison said when a person walks into Schober's classroom it feels like a real community of learners. She said Schober goes beyond teaching and develops relationships with the students.
"Her influence with them is not just as a teacher, but as a respected adult," Morrison said. "She can positively impact them as far as their lives, not just their English learning. Most kids want to be challenged intellectually and she gives it to them."
The award puts Schober in the running to become the ARSA's 2016 Teacher of the Year. That winner will represent Arizona in the National Rural Education Association Teacher of the Year program.
SUBMIT FEEDBACK
Click Below to: