Grand Canyon Phantoms wrap up last home game vs. Ash Fork

Originally Published: October 25, 2016 9:43 a.m.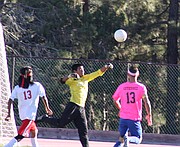 The Grand Canyon Phantoms varsity soccer team wrapped up their season last week with a home game against the Ash Fork Spartans. Although the game resulted in a 4-1 loss, the Phantoms played hard and gave the seniors a fitting exit to their last season for Grand Canyon.
Clockwise from top: Omar Zapata runs to intercept a Spartan player. Lise Chenevert avoids a steal. Israel Herrera attempts a shot on goal. Aleryn Reid battles for control near the Phantoms' goal line. The Phantoms' keeper blocks a shot. Israel Herrera takes the ball downfield. Neegoh Kaska throws the ball inbounds. Gunter Morris receives the ball on a pass from Valeria Romero. The Phantoms line up at goal to block a Spartan corner kick. Travis Moreno kicks off after an out of bounds call. Erin Owensby/WGCN
SUBMIT FEEDBACK
Click Below to:
More like this story