Williams schools announce October Students of the Month
Originally Published: October 18, 2016 3 p.m.
WILLIAMS, Ariz. — Williams Unified School District announced their September students of the month.
Elementary School
Amelie Pearson is the kindergarten student of the month. Her teacher says she is always on her best behavior. She is never distracted by others and focuses on doing her best work at all times. Amelie is quiet and respectful and is a good friend to others, helping and being kind.

First grade student of the month is Anthony Martinez. Anthony's teacher says he has been an exceptional citizen in class. He is always polite, quiet, and respectful to adults and his peers. Anthony does what is asked of him with a great attitude each day. He is hard working, takes pride in his work, and is a wonderful example to others in class and at WEMS.
Second grade student of the months is Shalimar Swick. Her teacher notes that she is a very kind and caring young lady and a welcome addition to the school district this year. She is always on time and ready to work hard, completing all her school work and helping whenever needed. She has good character and gets along with peers and adults.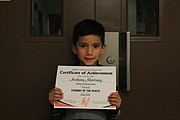 Berenice Hernandez is the third grade student of the month. Bere is a quiet, bright young lady, according to her teacher. She is always respectful to everyone in her class. She was even respectful enough to not speak up and let others know that they had been spelling and pronouncing her name wrong until this year. She is caring and willing to help in all situations, and is loved by all in her class, including her teacher.
The fourth grade student of the month is Deisy Ortiz. According to her teacher, Deisy has a great attitude and is very helpful. In addition, she takes directions, works hard, pays attention in class, and is continually improving in math and reading.
Kiera Fergus is the fifth grade student of the month. Her teacher considers her to be an overachiever—she is never satisfied by just finishing her school work. She is meticulous about not just getting her school work finished, but getting it finished correctly and thoroughly. She is always willing to lend a helping hand to her classmates who may be struggling with their own schoolwork. Kiera is an excellent role model for her peers and always has a smile on her face.
Middle School
Mario Salazar is an extremely kind, polite and well-mannered young man, says his teacher. He works hard in school, and even when the academics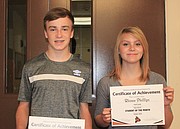 are challenging, he always puts forth tremendous effort.
According to her teacher, Shay Racher is a conscientious, well-behaved student. She always puts forth tremendous effort in school. She is a wonderful example of excellence in middle school.
SUBMIT FEEDBACK
Click Below to:
More like this story