Williams airport gets fixed based operator
Performance Air Group opens aircraft service, maintenance and management business at H.A. Clark Memorial Field in Williams

Originally Published: October 4, 2016 12:34 p.m.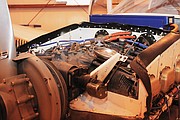 WILLIAMS, Ariz, — Chad Thomas has always liked working with his hands. As a kid he enjoyed rebuilding old bikes and as a teen he worked on cars. Now an adult, Thomas is a certified aircraft mechanic who enjoys restoring and repairing airplanes and is bringing his favorite pastime to Williams as a new fixed based operator at H.A. Clark Memorial Field.
"I like tearing stuff apart," Thomas said. "I definitely was that kind of a kid growing up."
Thomas owns Performance Air Group and he recently signed a contract with the city of Williams to open shop in the large hangar at H.A. Clark Memorial Field. He will also serve as the onsite airport maintenance coordinator.
Besides his aircraft maintenance business, Thomas has agreed to provide airport services for the city. He will conduct fuel inspections, issue access cards, perform security inspections, monitor for wildlife, perform snow removal and perform general maintenance on the airport facilities.
In return, the city is compensating Thomas with a reduced-cost lease for an airport hangar to be used as a maintenance garage.
Thomas brings extensive aircraft repair experience to Williams. He has been working as an aircraft mechanic since 1993 and just recently moved to Flagstaff.
Thomas first became interested in flying while attending Texas State Technical college in Waco. He began working on his private pilot's license there before moving to Denver to finish his training with a retired Air Force combat instructor.
"I got to experience two completely different teaching styles," Thomas said.
Upon completion of his pilot's license, Thomas went to Embry-Riddle Aeronautical University in Daytona, Florida.
"I still had intentions of flying so I worked on my AMT flight degree," Thomas said.
Upon completion of the aircraft maintenance technology program, Thomas decided to move to Arizona where he was quickly hired at Sawyer Aviation in Phoenix.
"It was a Cessna dealer and I worked on the twin engine Cessnas all the way down to the flight school's 172s," he said.
Sawyer was bought out by Swift Aviation, which had a fleet of Citation and Falcon jets. Thomas continued working for Swift and was sent to Pratt and Whitney and Flight Safety for training on engines and airframes for the jets.
"So as a new mechanic I was lead inspector because I had been to the school for it," Thomas said.
Thomas continued working for various aircraft companies in Phoenix before getting hired at Stellar Aviation in Chandler. Thomas eventually bought out Stellar and opened his own business working on a variety of planes ranging from smaller planes like the American Champion Citabrias up to the larger Beechcraft King Airs.
"One our biggest customers had eight airplanes with three Boeing turbo props, so two King Air 200s and a turboprop Cessna," Thomas said. "We were also doing other Cessnas like 421s and 414s because few people knew how to work on them."
Thomas continued running his aircraft maintenance business until 2011 when he decided to step back from being a business owner and began teaching classes at Chandler-Gilbert Community College. He taught aircraft power plant classes there and then moved to Colorado to teach at Redstone College for a few years.
"We then decided it was time to come back to Arizona," Thomas said.
Thomas and his family moved to Flagstaff and began looking for hangar space for Thomas to get back into aircraft maintenance. He looked at Sedona and Williams.
"Location is not that big of a deal," Thomas said referring to the distance customers will travel. "I've had customers calling me since I closed the shop two or three years ago, and some have already been up here."
Thomas said he is already busy at the Williams airport doing annual inspections and repairs on several aircraft. He said through the annual inspections he often finds repairs that need to be made. He currently is repairing a crank shaft and fuel selector leak on a Champion 7GCBC. He has a Rockwell Commander in the shop that needed resealing of the fuel panels on a wing. He is also upgrading all of the avionics units of the aircraft while he has it.
Thomas has already been active in the Williams community by hosting a fly-in Sept. 17. Approximately 60 airplanes stopped by H.A. Clark Memorial Field and were treated to a pancake breakfast by local boy scouts
Performance Air Group is located at 3501 N. Airport Rd. #2 in Williams. More information can be found by contacting Thomas at (480) 296-3305 or by email at Chad@PerformanceAirGroup.com.

SUBMIT FEEDBACK
Click Below to: