New poll shows support for proposed Grand Canyon monument

Originally Published: October 4, 2016 11:28 a.m.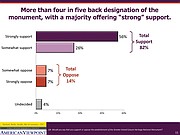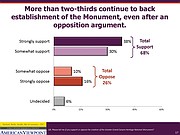 GRAND CANYON, Ariz. — With the protection of more than 3.5 million acres of land across the U.S., President Barack Obama has designated and expanded more national monuments than any other president in history.
That distinction could soon affect northern Arizona if Bill H.R. 3882, introduced by Rep. Raul Grijalva (D-AZ-3), is successful. The bill, which would designate approximately 1.7 million acres as the Grand Canyon Heritage National Monument, is currently before the House Natural Resources Committee.
Recently a bipartisan poll, conducted with 800 likely voters nationwide Aug. 29 - Sept. 8, suggested that a majority of Americans are supportive of the designation.
The poll was conducted by public opinion research firms Fairbank, Maslin, Maullin, Metz & Associates (Democrat) and American Viewpoint (Republican) via landline and cell phones and has a +/-3.5 percent margin of error.
Dave Metz, who conducted the poll along with Randall Gutermuth, noted that in a country increasingly divided along party lines, support for conserving areas around the Grand Canyon received a large amount of bipartisan support.
"At a time when so much divides us politically, the Grand Canyon seems to be something that unites America," he said. "There's a broad consensus among different sections of the electorate that the establishment of this monument is a valuable step."
The poll found that a majority of 82 percent strongly support or somewhat support the designation of national monument status, while just 14 percent strongly oppose or somewhat oppose it. Four percent are undecided. A more in-depth analysis of those numbers revealed that categorizing the results by gender, race and political affiliation still produced strong support for the initiative.
Metz and Gutermuth also framed the survey with language that both proponents and opponents of the measure are likely to use. Metz pointed out that, even after hearing arguments that are critical of the monument designation, 68 percent are still in support of the measure.
"When you look at broad levels of support across partisan lines, it really is a rarity in today's polarized world to ever see any issue with 82 percent support," added Gutermuth. "Even after a set of very valid arguments, you still have nearly 7 in 10 voters who support it."
Although the poll numbers point to widespread support for national monument status, the initiative has not been without controversy. Opponents point to limited access for recreational fishing, hunting and other sporting activities, an excess of federal land ownership, grazing restrictions and dwindling development opportunities as reasons for concern about the legislation.
Arizona senators John McCain and Jeff Flake have both signed a letter to President Obama urging him not to place the 1.7 million acres under federal protection. They argue in the letter that designation of the monument "might worsen watershed health if land managers and private property owners are restricted from thinning the area's overgrown forests or if hunters are barred from culling overpopulated wildlife. Arizona cannot afford to have its hands tied when it comes to controlling wildlife populations, enhancing its water supplies, and preventing wildfires."
Rep. Raul Grijalva, who sponsored the bill last November, explains that the bill is designed to ban uranium mining in the area, not restrict public access or land-owner rights.
"The (poll) results are very reaffirming of the understanding that we need to provide a permanent protection from uranium mining to the Grand Canyon and its surroundings, to protect the watershed, and to protect the centuries of human presence in and around the Canyon," he said.
Grijalva explained that language in the bill makes no new restrictions on recreational hunting, camping, biking, birding and other outdoor activities, nor does it require private property owners to provide access to federal lands through their property.
Carletta Tilousi, a Havasupai Council member, reiterated her tribe's opposition to uranium mining on nearby lands and its support of Grijalva's bill, which also seeks to preserve and ensure tribal access to ancient Native American sacred sites.
"Our main goal is to protect our land and our water from any source of contamination," she said. "That's why the Havasupai Tribe is in full support of the Grand Canyon National Monument Act. We believe the Grand Canyon is a sacred place for all humans and animals. For this reason, we need to do whatever is necessary to protect our natural wonder of the world."
SUBMIT FEEDBACK
Click Below to:
More like this story