Lady Vikes volleyball dominate Grand Canyon in three games
Originally Published: October 4, 2016 12:35 p.m.
WILLIAMS, Ariz. — Two wins, two losses and the Lady Vikings Volleyball squad look to gain momentum as they start the second half of their season. In a season that sees the Vikings taking on division competition twice during the three month period, the Lady Vikings are fighting against division teams for an opportunity to go to the state playoffs at the end of October.
The varsity team lost a hard-fought match against division rival Ash Fork Spartans. The Lady Vikings forced the Spartans to five games, something no other team has been able to do this season.
"Errors got the best of us," Head Coach Chesney Grantham said. "We can't have that many errors against a hard hitting team."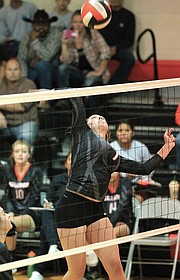 The Lady Vikings battled back from being down two games, forcing a tie-breaking game five.
"I am very proud of them," Grantham said, "they did not give up, they fought to stay in it."
The five-game match lasted longer than two hours and had highlights from many Viking athletes. Junior Libero Destinee Pennington was moved to cover the middle of the court. Pennington had 42 digs and was able to successfully return 23 of the Spartans serves. Hitters Riley Heap, Rheanon Koss and Kami Batterton contributed to the Vikings offense with more than 15 kills between them. Middle hitter Paige Kmetz had a career- high four kills. Leading the offense were setters Veronica Hernandez and Madison Olson. Hernandez had 62 sets to Olson's 42, allowing hitters the opportunity to produce obstacles for the Spartans defense.
The momentum shifted in favor of the Vikings after a block by Batterton allowed the orange and black team to steal game three. The Spartans also struggled to return the jump serve of freshman defensive specialist Maegan Ford. Ford and Kmetz share a position.
"Only one of them can serve," Grantham said. "Paige has a powerful serve but there is something about Maegan's jump serve that makes it difficult for teams to return."
After the loss to the Spartans, the Lady Vikings traveled to Joseph City to take on the Wildcats. The Lady Vikings once again found themselves in a five- game match. The teams went back and forth with the Wildcats winning game one and three and the Vikings taking games two and four. The final game was again a back and forth battle between the two teams. The final score was 16-14, a two point win in favor of the Wildcats.
"Every game we are gaining experience," Grantham said, "This game we realized how important our offense is to winning."
The Lady Vikings had 28 hitting errors, each resulting in a point for the Wildcats.
"The girls are still learning when to play aggressively and when to play smart," Grantham said.
Highlights from the Joe City game include 28 made serves by Ford, 12 kills for Batterton and 32 digs by Pennington. Tori Maebe came in off the bench and helped the team with 4 kills.
Following the disappointing losses, the Lady Vikings entered homecoming week to take on the Cibecue Wildcats and the Grand Canyon Phantoms.
Freshman Alaina Karlsburger came in as an outside hitter, Bridgette Hernandez stepped in as a setter and Maddie Jensen played back row defense. Jensen had seven serves, Karlsburger had 10 hits with two kills and Bridget had 21 sets in her varsity debut. Defensive work from Koss and Pennington as well as offense from Batterton who had seven kills and each setter contributing more than 20 sets. Maebe also had a career high 10 kills.
The Lady Vikings swept the Phantoms in three games during homecoming week.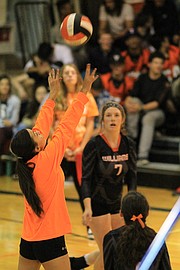 "I was very impressed with Paige. She stepped up for her team and played hard in a new position," Coach Grantham said.
Kmetz had two kills and Batterton had six kills. Koss had 5 serving aces, Kmetz five, Ford five and Batterton had nine aces.
Bridgette Hernandez also played well against the Phantoms with seven made serves and 12 sets, a team high for the night's events.
"We mixed up the roster and threw in some of the younger players," Coach Grantham said, "We played well. The girls seemed to be having fun and that makes a big difference."
The Vikings next play Camp Verde at home Oct. 6.
SUBMIT FEEDBACK
Click Below to: