CCC seeks budget override with Prop 410

Originally Published: October 4, 2016 3:24 p.m.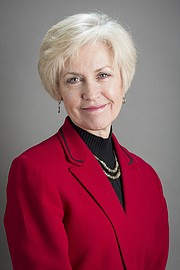 WILLIAMS, Ariz. — Coconino Community College president Colleen Smith has been working hard to get the message out about Proposition 410, a proposed property tax override. Smith addressed the Williams City Council and Williams Unified School District governing board this month with her proposal.
The proposition will be on the Nov. 8 ballot and is asking voters to approve a property tax increase that would fund college programs and provide services to high school students and veterans. The new property tax would begin in tax year 2019 after the final payment on the voter approved 20 year bonds that built the college's campuses. The tax would continue for seven years.
CCC's revenue sources are tightly controlled by state law and the governing board has determined that the amounts currently allowed provide insufficient revenues for the college.
Over the past few years, CCC has cut costs and increased revenues by eliminating community and corporate learning courses, reducing services at the Page site, reducing the nursing program from 40 graduates per year to 20, eliminating the music and dance classes, eliminating the Early Childhood Education Certificate and Education Degree, eliminating 40 positions at the college, raising tuition, eliminating multi-course discounts, establishing a credit card fee, establishing a no show fee and increasing parking fees.
According to Smith, the additional money will fund new training programs for automotive repair, manufacturing and construction management. It will also fund programs and services to assist veterans transitioning from military to civilian employment. The college hopes to hire more full-time instructors with a minimum master's level degree to meet the growing demand for high school transition to college and from community college to universities.
The college hopes to expand the nursing program and add additional courses with an expanded faculty at their Page location. They would like to contract training with local employers for rapid training, such as short-term courses in coding, customer service and computer applications.
Currently the college is funded in three ways. State aid provides about 11 percent of the colleges funding. Property taxes provide about 44 percent of the funding, and student tuition and fees provide the remaining 45 percent of the funding.
According to Smith, Coconino College's property tax rate is 72 percent lower than the average rate for all other community colleges in the state. To counter that, the college has one of the highest tuition rates, approximately $500 per year, higher than other community colleges.
Coconino Community College was founded in 1991. At the time it was not expected to serve more than 500 full-time students. The college had 1,000 students enroll in the first year, and has experienced continued growth to its current level of over 7,500 students.
The college has 50 different degrees and certificates and currently has 1,800 students who participate in the CCC2NAU program. The program allows CCC students to easily transfer credits to degree programs at Northern Arizona University (NAU).
According to the college, 75 percent of CCC students are from Coconino County with many taking courses in firefighting, emergency medicine, nursing, allied health work, correctional officer training, and other law enforcement fields.
The total amount of additional money from the override will be $3 million dollars annually for seven years beginning in 2019. The college estimates the average homeowner's property taxes would increase by approximately $1 per month.
SUBMIT FEEDBACK
Click Below to:
More like this story