Business beat: Oh Sweetie to serve candies and ice cream year round
Originally Published: November 29, 2016 11:56 a.m.
WILLIAMS, Ariz. — Oh Sweetie, an original name by Mike and Niki Kennelly, opened Sept. 1 and offers a variety of sugary sweets that is sure to turn every candy and ice cream lovers' head.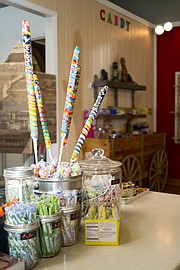 Their number one seller is their homemade ice cream. They also offer homemade fudge, coffee, hot chocolate, a collection of candy and a variety of locally produced products including granola and cookies.
The ice cream is churned at the store in a nostalgic ice cream maker and takes about 35 minutes per batch to make.
"It's all Arizona sourced, the milk and cream, everything is local and we do it all old-fashioned style with ice and salt," Mike Kennelly said.
Mike makes five gallons of ice cream at a time and said the ice cream is never over a week old. They offer 12 flavors.
"We always have seasonal flavors and do a local request," he said.
"We'll keep strawberry, chocolate and cookies and cream because everyone loves that one," said Niki Kennelly. "But pretty soon we're going to start a peppermint and eggnog flavor for Christmas."
Since the rented space for Oh Sweetie had been an ice cream store previously, there was little remodeling that needed to be done when the Kennelly's took over.
"This was kind of how they (previous owners) had it set up," Niki said. "We went to some antique stores and flea markets to find old milk jugs and buckets (for decoration). We wanted to make it homey and county fair like, I guess."
This is the second store Mike and Niki have opened in Williams. In mid-March, the couple opened the Route 66 Smoke Shoppe next to the Sultana Theatre. After opening the smoke shoppe, they decided to open Oh Sweetie, using the same rental space for both stores.
"We started with that (Route 66 Smoke Shoppe) and wanted to move to a bigger place and the lady already had this all set up for the ice cream shop," Niki said.
The ice cream shop and smoke shop are divided by a wall with a doorway, allowing customers to pass back and forth between the two stores.
The Kennelly's said they plan to keep both stores open year-round and said based on the amount of business they have at the Oh Sweetie, they may or may not keep the ice cream store open year-round next year.
"We may close next winter, depending on how the summer goes," Mike said.
"We'll be the only (ice cream store) open (this winter)," Niki added. "Dairy Queen closes and Twisters usually closes for a month or so, sometimes Cruisers closes for at least a couple of weeks. So we'll see how it goes this year and then maybe next year we can close for a month or so."
In addition to Oh Sweetie, the Kennelly's plan to have a fudge and candies booth at Bearizona's Wild Wonderland which takes place Friday, Saturday, and Sunday nights starting Dec. 2 through Dec. 31.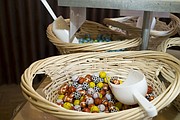 Additionally, the Kennelly's plan to have an ice cream dipping cabinet at Bearizona this summer, where they will offer six to eight ice cream flavors.
Niki said they are excited to be open and have enjoyed getting to know their customers.
"We're definitely getting to know some locals that we didn't know were here," she said. "It's fun, you get to experiment with the ice creams and the candies. We're having a good time."
Oh Sweetie is open every day except Wednesday from noon to 8 p.m. They are located at 309 W. Route 66 in Williams.
SUBMIT FEEDBACK
Click Below to:
More like this story