Experience regional Native culture at Grand Canyon's Native American Indian Heritage Fest Nov. 9
Originally Published: November 8, 2016 11:12 a.m.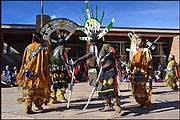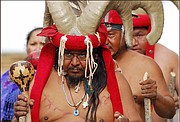 GRAND CANYON, Ariz. — In honor of Native American Heritage Month, Grand Canyon National Park will host a Native American Indian Heritage Celebration with special presentations and demonstrations from 10 a.m. to 3 p.m. at Shrine of the Ages. All Native American Indian Heritage celebration events are free and open to the public.
Grand Canyon visitors and residents are invited to participate in a special day to recognize and celebrate the many accomplishments, contributions, and sacrifices made by First Americans.
Visitors will experience cultural demonstrations and have the opportunity to buy Native American crafts and arts directly from artists.
The celebration will continue at 7:30 p.m. at with presentation of colors by the Cameron Veterans Color Guard, a traditional Hopi prayer, the Dupkia Hopi Dancers, the Dishchii'bikoh Apache Crown Dancers, and the Havasupai Guardians of the Grand Canyon Ram Dancers. To end the evening, enjoy Dine Nation's Milton Tso playing traditional flute music.
Later in the week, and in honor of those that serve and have served in the United States military, Grand Canyon National Park will offer everyone free entrance on Veterans Day Nov. 11.
More like this story
SUBMIT FEEDBACK
Click Below to: