BMX riders deliver high-flying anti-drug messages
Originally Published: November 8, 2016 1:55 p.m.
WILLIAMS, Ariz. — Students at Williams Elementary-Middle School were treated to a BMX stunt show to end Red Ribbon Week, a campaign to educate school-aged children about the dangers of drug and alcohol use and to encourage participation in drug-prevention activities.
Wheels of Freestyle delivered a powerful motivational school assembly to Williams youth Nov. 3 in front of Williams Elementary-Middle School (WEMS). The thrilling show included aerial tricks and BMX stunts that captured the students' attention while the announcer spoke of the dangers of drugs and alcohol.
The 20-year old program has taken teams to schools around the country delivery an anti-drug message. It first began as a bike safety program that evolved into an education program about the harms of drugs and alcohol.
According to group manager Luis Hoyos, the show shares five messages to children: living drug free, living your dreams, being motivated, respecting others and staying in school.
Hoyos spoke to both elementary and middle school students in two separate performances while two professional BMX riders, Zury Brambila and Mark Rubio, performed a routine of BMX tricks with four ramps.
WEMS student services coordinator Maya Caldwell and school nurse Amber McMahon organized the program after receiving a grant from the Governor's Office of Youth, Faith and Family (GOYFF) for Healthy Families — Healthy Youth, a substance abuse prevention pilot program for seventh grade students and their families.
The school held an earlier assembly with the same funding earlier this year. The program took place after a regular school day and provided families with age-appropriate substance abuse education and the opportunity to develop a family substance abuse prevention plan.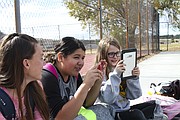 The National Family Partnership organized the first Nationwide Red Ribbon Campaign. In response to the murder of DEA Agent Enrique Camarena, angry parents and youth in communities across the country began wearing red ribbons as a symbol of their commitment to raise awareness of the killing and destruction cause by drugs in America.
Camarena was a Drug Enforcement Administration agent who was tortured and killed in Mexico in 1985. When he decided to join the U.S. Drug Enforcement Administration, his mother tried to talk him out of it. "I'm only one person," he told her, "but I want to make a difference."
In honor of Camarena's memory and his battle against illegal drugs, friends and neighbors began to wear red badges of satin. Parents, tired of the destruction of alcohol and other drugs, began forming coalitions. Some of these new coalitions took Camarena as their model and embraced his belief that one person can make a difference. These coalitions also adopted the symbol of Camarena's memory, the red ribbon.
The Red Ribbon serves as a catalyst to mobilize communities to educate youth and encourage participation in drug prevention activities. Since that time, the campaign has reached millions of U.S. children and families.
SUBMIT FEEDBACK
Click Below to:
More like this story