Photo by Wendy Howell.
Originally Published: November 1, 2016 2:43 p.m.
WILLIAMS, Ariz. — Kami Batterton's 134 kills and 64 serving aces has helped put the Williams Lady Vikings in the number eight spot as they head to the 1A State volleyball tournament Nov. 4.
The Lady Vikes placed third in the 1A Regional tournament Nov. 27-29 but their 12-5 conference record allowed them an automatic place in the state tournament.
"We are third in our region which is not bad," said Vikings head coach Chesney Grantham. "We are in the toughest region for 1A. We are a young, inexperienced team and we are playing well."
Batterton is ranked third in the 1A Conference for hitting, with a 30 percent accuracy. She is also ranked sixth for kills at 134 and fourth for aces at 64.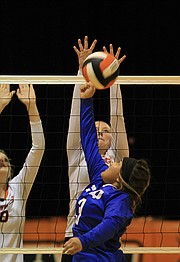 "She's done really well right from the beginning of the season," Grantham said.
Viking libero Destinee Pennington is ranked third in the 1A Conference with 292 digs.
Middle blocker Tori Maebe is ranked 10th in the conference for blocks with 23 and Meagan Ford is ninth in with 46 aces.
"Our team is young but they are getting such good experience now," Grantham said. "Bridget and Madison have moved down to play on junior varsity due to replace injured players and both got a lot of experience doing that."
Madison Olson is seventh in the conference for assists, with 133 and is one of the top servers on the team, with a 94 percent accuracy. Rylie Heap and Bridget Hernandez also have high serving percentages at 93 and 96 percent respectively.
Grantham said she has a rotation of eight girls and the team is dealing with several injuries. She said she has counted on Page Kmetz to fill in around the court.
"Page is very versatile, she can go outside hitter or she can't take over as middle blocker," Grantham said. "She's not a big hitter but she is accurate and very smart."
Grantham said she has allowed the team to break the rules this year and make adjustments to what works best on the court.
"We are using the court to our advantage," she said.
Grantham said the girls are looking forward to the state tournament and she feels they have a good chance of coming home with a win after the first round.
"We'll be going in at the ninth spot playing the eighth team," Grantham said. "We are right there with them.
Grantham said if the Vikings win they will play St. Michaels again. The Lady Vikes lost to St. Michaels in the first round of the state tournament in 2015.
"It would be nice to see us play them again," she said. "They are not the same team."
The Lady Vikes play NFL Yet at 1 p.m. on Nov. 4 at North High School in Phoenix.