The art of solitude: One of Grand Canyon's last artists-in-residence spends a month on secluded North Rim
Lisa Gilley sets out to capture solitude of North Rim
Originally Published: November 1, 2016 11:45 a.m.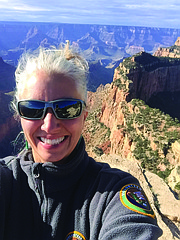 GRAND CANYON, Ariz. — There is a sign at the rim of the Grand Canyon that reads, simply, "One minute, don't read, don't talk, no photos, just look....and see."
That is why Lisa Gilley makes art.
Gilley, potentially one of Grand Canyon National Park's last artists in residence, spent a month contemplating as she strapped on her hiking shoes and backpack and ventured out one on of her daily hikes during her residency on the North Rim.
It's quiet. Isolated. A universal lesson in scope and perspective.
"I had never been to the North Rim, so I wasn't sure what to expect," she said. "But when I got here I was really pleased. It's so quiet, really a more immersive experience."
Gilley's works, large in scale, evoke the abstract modernist style of the early 20th century. There was expressionism and post-expressionism in Europe, she explained, but America didn't really have its own voice in the art. Because of this, many artists traveled west in order to paint and create a sense of what our country looked like.
Her work isn't about realism, but more about conveying a different perspective, and a memory for the people who view it.
"I want them to look at it and say, 'Oh, I've never seen it that way before, I've never seen it from that perspective.'"
Gilley, whose chosen medium is oil paints, often works from photographs and spends around a month on each piece. Her stay at the North Rim wasn't about getting several pieces of work done, although she did complete one large-scale piece onsite and most of another. Instead, she explained, the goal was learning how to feel the space.
"One of the things I noticed when I walked up to the edge was just how vast it really is," she said. "I've been to a lot of national parks, but the scale of the Grand Canyon… it's just so intense and emotional to look into it. You realize how small you really are."
Each morning, Gilley finished her coffee and set off on a different trail, camera in hand. She took around 900 photographs during her stay. Taking in and internalizing the sheer magnitude was a daily process, one filled with wonder.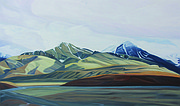 "You look out at these vast canyons and you think, wow, that little speck over there, no one's been there," she said. "How do you capture that in a painting? It's so hard to fathom, it's even hard to photograph it and still get that essence across."
The journey wasn't just about her artistic accomplishments during her residency, but also a personal triumph. Gilley, whose husband accompanies her on many of her national park excursions and acts as a sounding board for her ideas, wasn't with her.
"This was a solo gig," she said, "and it was pretty cool. You know, I drove there by myself, I explored by myself without anyone to bounce things off of. I had to internalize everything I was seeing, just me and the place."
The solitude of the inner canyon wilderness offered a sense of perspective for Gilley.
"My friend and I hiked down to Dripping Springs and we saw maybe three people on the entire trip," she said. "A snake went right across our path. Seeing all the wildlife was pretty cool, from the top you don't really think about all the things that live down here."
Now that she's returned to her home on Marrowstone Island near Seattle, Gilley is hunkered down in her studio, surrounded by photographs and sketches, to continue her work.
"It's really gray and about to pour here," she joked. "It's a great time to immerse myself back in the Southwest."
In January, Gilley will display her North Rim works in a show at Seattle's Woodside Braseth Gallery that highlights the national parks of the west.
"The reason I'm painting the national parks is because I feel like these places need to stay wild," she said. "I feel like there's a lot of people trying to take away from the conservation of these places, whether it's at the border of the parks, or the tram they're trying to put in at the confluence. I'm not sure people are fully aware of it. They really are America's best idea."
It may be one of the last shows featuring the works of resident artists at the Grand Canyon, since the program has been suspended indefinitely because of staffing and funding concerns. Artists already scheduled for residencies on the South Rim are being allowed to carry them out at the North Rim instead through 2017.
---
SUBMIT FEEDBACK
Click Below to: