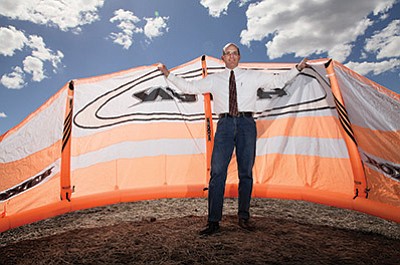 Originally Published: May 17, 2016 1:46 p.m.
WILLIAMS, Ariz. - Kites of all shapes and sizes will take to the skies Saturday as part of the Spring Community Kite Festival.
The seventh annual event will take place from 11 a.m. to 2 p.m. at Cureton Park. Organizer Rob Krombeen said the free event is a good fit for the community as well as for the season.
"We do extreme kite flying," Krombeen said. "I've kind of retired from that though because I got hurt a couple years ago. It was like 27 feet long and I have to tie a rope and fly it from a harness. But you never know, it may make a return."
About 400 people attended the Community Spring Celebration last year.
"It's about kites, but ultimately it's about community," Krombeen said. "It's an opportunity for the Williams community groups to give back to the community. It's just a great time for a great event."
Krombeen may bring the largest kite to the festival this year, as he did last year.
"The wind is always blowing," he said. "We've had amazing turnouts."
The first 200 kids at the event will receive a free kite. Besides the kite flying, participants can enjoy two bounce houses, face painting, temporary tattoos, free crafts, food, games and other activities.
The Williams Neighborhood Groups, whose goal is to better Williams neighborhoods, is sponsoring the event along with assistance from the city of Williams.
Williams Food Bank and Pepsi will supply free food and drink at the event.
"It's family friendly," Krombeen said. "We've had 300-400 people turn out."
Krombeen encouraged local families to come out and enjoy the day.
"It's an opportunity for the kids to have fun doing something that they enjoy, but parents also get to mingle and meet and kind of bring the community together," he said.