Game and fish boost trout and catfish populations in Williams lakes

Originally Published: May 17, 2016 2:38 p.m.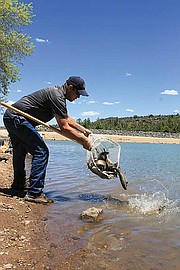 WILLIAMS, Ariz. - Anglers in Williams are in for a special treat at City Dam and Cataract Lake after the Arizona Game and Fish Department (AZGFD) provided a special stocking of showcase Rainbow trout and catfish May 14.
The showcase fish are large fish from the AZGFD Page Springs feeding pond near Cornville.
"The ones we are getting today are roughly two pounds, which is really nice," said Matt Rinker, fisheries biologist with AZGFD.
Page Springs Hatchery emptied their show pond of oversized Rainbow trout and AZGFD biologists transported the fish to Frances Short Pond in Flagstaff and City Dam and Cataract Lake in Williams. Approximately 600 Rainbow trout were released in Williams lakes.
"These special fish are four times the size of our normal catchable trout stocked in this area," said Scott Rogers, aquatic wildlife program manager with AZGFD.
Channel Catfish from Arkansas were also stocked into Frances Short Pond, City Dam and Cataract Lake.
According to Rogers, the showcase pond is emptied once per year. The large fish stocking is in addition to the normal stocking regime of AZGFD.
"We like to give the fishermen an opportunity to catch bigger fish," Rinker said. "We always jump on that opportunity to get big fish."
According to Rinker, the Page Springs Hatchery is the warmest cold water hatchery in the United States. It is maintained at 68 degrees, which is the limit for trout survival.
"But the growth is really good for the fish," he said. "In the warm water the fish grow faster and we can have more production wise."
City Dam and Cataract Lake are stocked regularly with rainbow trout and catfish, but they are also home to crappie, blue gill and small mouth bass.
"Crappie and bass were introduced by people who thought it was a good idea," Rinker said. "They're not bad fish, just out of place."
Rinker said the crappie do poorly in the cold waters of northern Arizona.
"It is cold much of the year so they don't grow very fast and are really good at reproducing," he said. "So you just get a bunch of really small fish, and the small mouth bass are just bad for native fish."
Rinker said the biologists determine a stocking schedule for northern Arizona based on water conditions. He said there are 36 sport fishing lakes within the region.
"There are several factors determining how much we stock," Rinker said. "The big one is snow. If we get a good winter then our lakes fill up and we have more places that we can stock. If it's a drier year, water quality comes into play. We put fish in where fish will survive and people have a chance of catching them."
Rinker said biologists and culturists are careful in transporting the fish and usually there are few mortalities.
"Different species handle the transport differently, so the catfish rarely have mortalities because they're tough," Rinker said. "The larger fish are often more sensitive but I will be surprised if I see one or two dead ones out of the bunch."
Rinker said the water quality at the lakes is good right now. The culturists take water quality samples prior to stocking and if the water doesn't look good, they have a contingency plan to transport them to another location. He said under the right conditions the fish will start biting by late afternoon.
"It doesn't take long for them to get acclimated and ready to eat," he said.
Rinker said most fishermen at the Williams lakes keep their catch to eat. He said those who prefer catch-and-release can decrease the mortality rate by proper handling.
"The way that you fish is a big part of it," Rinker said. "If you fish with bait they tend to swallow it, but if you fly fish or lure fish they tend to get hooked in the lip and it's a lot easier to release them. The best thing to do is to keep them in the water if you can and have wet hands. You can also crimp the barbs down on the hook to prevent damage too."
Rinker said if the fish swallows the hook, a fisherman can clip the line close to the fish's mouth and it may rust out over time. If it's hooked in the gills and the fish is bleeding its best to keep the fish. He recommends holding the fish in the water while releasing it.
"They have protective slime like our skin so if they lose that they're susceptible to bacteria and fungus," he said.
Rinker only spends a portion of his time with sport fishing duties. His main job is protecting native fish.
"Most of my time is spent sampling native fish communities and canyons and streams in the region," he said. "I monitor populations and identify projects where we can do good things for the native aquatic community."
Rinker said AZGFD stock the lakes with fish that will not hinder the native population of fish. He said Santa Fe Dam is stocked with catfish, rainbow trout and brown trout. He said brown trout can be harmful to native fish but they are stocked in that lake since there is little chance of overflow.
"What's available food wise is also a determining factor," Rinker said. "And the brown trout are really good at persisting. They don't spawn on their own but they will last a long time in the lake."
AZGFD public information officer Sherri Shepherd wants to remind people to be aware of regulations at the locations where they fish. The AZGFD has special fishing licenses for youth age 10-17 that cost $5. These are available online and anywhere fishing licenses are sold. Rates for other licenses can be found online at https://www.azgfd.com/License.
SUBMIT FEEDBACK
Click Below to:
More like this story