Grand Canyon Caverns opens tour in new caves to public March 12
Originally Published: March 15, 2016 11:39 a.m.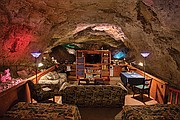 ROUTE 66, Ariz. - There's a dinosaur in the driveway.
Close by there's a miniature golf course and vintage hotel and restaurant reminiscent of the 1950s and 1960s era. A little further down the driveway there are horse stables, a rodeo arena, trails for hiking and biking and an R.V. park and campground.
Everything at Grand Canyon Caverns is designed to resemble a bygone era while still offering the comforts of 2016. It's quaint and intriguing but the real secret lies 210 feet below the surface where tours are given in one of the largest dry caverns in the country.
Grand Canyon Caverns was first called Dinosaur Cavern of Dinosaur City, Arizona, after the remains of a giant ground sloth were discovered and thought to be dinosaur bones. People can still see the claw marks of the sloth on the walls and a 15-foot life size replica looms above tourists during tours of the interior of the cave.
The attraction is located 12 miles from Peach Springs, Arizona and five miles from Indian Road 18 that dead ends at the Grand Canyon where hikers and Grand Canyon enthusiasts begin their descent to Supai Falls deep in the interior of Grand Canyon. The cavern turn off is also on one of the most well-known historic highways in the country - Historic Route 66 and has been the perfect place for tourist and locals alike to spend a day or two.
"It was a kinder and gentler travel experience (1950s and 60s) and we wanted to have a whole bunch of things that families and kids can do," said cavern owner John McEnulty. "We want guests to have a nostalgia experience but be really nice and comfortable and very happy they were there."
McEnulty, an avid Grand Canyon hiker, first became interested in the caverns after he started going to the cavern restaurant when he finished hiking the Grand Canyon. When the operation was put on the market in 2001, he partnered with Diane Carson and Mike Kadlatz and purchased it in 2002.
"I told my family that it was kind of a shame that it wasn't what it used to be because it was once the number one tourist attraction in the state before the freeway (Interstate 40) bypassed it," McEnulty said.
Today McEnulty is the managing partner and spends four days a week at the caverns.
Starting in 1927, tourist started exploring the caverns. Some of the first tours were much different than those given today.
"They tied a rope around your waist, handed you a kerosene lantern and a handful of matches and lowered you 150 feet into the hole," said cavern tour guide Levi Goldsmith. "You could be down there as long as you wanted but thing is, they may not be there to pull you back out."
Today tourist take the easy route, descending 210 feet or 21 stories, in an elevator. Opening the shaft for the elevator took close to three years and 90 cases of dynamite. The elevator, completed in 1962, now takes around one minute to descend or ascend. Once you reach the bottom, there is just over a mile of concrete sidewalks that were installed using a chute from a hole in the surface where the cement was first mixed and sent to the bottom.
Up until this month, GCC offered five tours, the standard tour available to anyone and sticking to the paved areas of the caverns, the short tour for those with a limited amount of time, the explore tour that allows adventurers to wander from the sidewalk to explore remoter areas of the cavern and the ghost tour complete with ghost tracking equipment.
Starting March 12, GCC will be opening a much anticipated fifth tour. McEnulty, co-owner of the caverns said the Wild Tour is the result of almost eight years of excavating and research. McEnulty has had professional cave explorers from The Grotto Association of Arizona and America at the cavern to explore and conduct research on the new cave.
McEnulty said he always had an inkling there were other caves located in the cavern. Based on sonar detection and air flow in the cavern, McEnulty said cavers were able to discover where the cavern was and eventually broke through to the new cavern. Once opened, cavers found the cave was a pristine environment with artifacts and wall coverings that had never before been seen.
"There's a lot of microbiology things that they are currently studying," McEnulty said. "They're finding new things. It's an ongoing science project and we're just beginning to let our clients get a peek at what's going on in there. We'll keep exploring and hopefully have more and more to see."
While tours will be open to the public McEnulty said there are certain areas that will be blocked off so cavers can continue with microbiology research. There is also active digging that will continue. McEnulty said they are hopeful that they will be able to break through to additional caverns, which are in existence. For now, the new tour offers adventurous cavers the opportunity to explore never before seen areas of Grand Canyon Caverns. Those wanting to go on the tour will need to be in fairly good shape and will be suited up for cave exploring, according to Jenna Jones, a manager at the caverns.
"The explore tour you go down ancient waterways and drains," she said.
"You're going to be crawling, there are a handful of places you can actually stand up a little bit but for the most part you are going to be on your hands and knees crawling," Goldsmith said.
The tour can last up to three hours, with guides providing a helmet, headlamp, knee pads and other caving equipment needed.
Visiting Grand Canyon Caverns
When visiting the caverns tourists are treated to a rich history as well as spectacular views of an underground world.
In 1962, during the Cuban Missile Crisis, the caverns were declared a fallout shelter - supplies were stock piled for 2,000 people in the case of an atomic bomb detonation. Fifty-four years later the supplies remain and have even been added to. Five years ago cavern owners brought in 17 pallets of bottled water and five pallets of MREs (meals ready to eat).
Additionally, to this day the caverns are considered a burial ground after a flu epidemic went through the Hualapai Tribe about 10 miles west of the cave. Two of the members died and since it was the middle of winter, they were lowered into the cavern.
Jones said those who take the tour enjoy the history and education from the guides as much as the experience of the cave.
"They enjoy the information," she said. "This is the third largest in the world and first largest dry cave in the country and dry caverns are pretty rare. So it's actually pretty rare as a natural occurrence for it to go dry, so it's pretty interesting to learn the formations and the story behind it and how it was founded."
In addition to just taking the tour, tourists have the option to stay the night inside the cave.
The Cavern Suite, located 210 feet below the surface, is a complete hotel room, with two queen beds, a hideaway couch, T.V., shower, toilet, table and chairs and even comes with a basket of midnight snacks.
It sleeps up to six people comfortably and costs $800 per night for two people.
"When you actually rent this room you're not just renting a motel room, you're renting our entire cavern," Goldsmith said. "It's been here just over five years and they've had around 1,300 people spend the night down here. We average 125 to 150 people a year."
Cavern staff show guests how to turn off the lights in the cave and operate the elevator. A suite attendant stays on the surface to help in the case of any emergencies, to answer questions and to deliver dinner which you can order from the restaurant.
More information is available at www.gccaverns.com.
---
SUBMIT FEEDBACK
Click Below to: