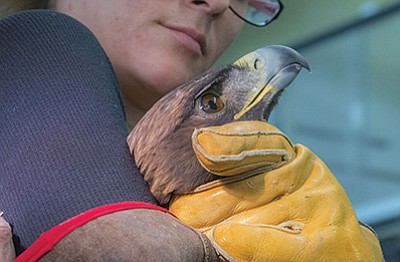 Originally Published: February 9, 2016 2:18 p.m.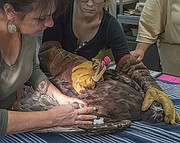 SELIGMAN, Ariz. - Dozens of people gathered on the hillside including highway patrolmen, wildlife biologists, veterinarian techs, and other wildlife enthusiasts as the sun lit up the gray sagebrush landscape scattered across the barren landscape near Seligman Feb. 2.
This unique assortment of people came together for a significant event: the release of a rehabilitated golden eagle.
On Nov. 19, DPS troopers were called to the scene of a non-injury collision involving a commercial truck and a golden eagle on Interstate 40 near Seligman. Although the truck driver wasn't injured, the eagle was injured when it crashed into and shattered the passenger side of the truck cab's front windshield. It then flew away a short distance before landing on the right emergency shoulder of the highway. The truck driver stopped and called DPS.
"The damage to the windshield was pretty intense," said DPS Trooper Douglas Redig in a video released by Arizona Game and Fish Department (AZGFD). "There wasn't a gaping hole. It caved it in though, left a big indent like a rock would."
Officers found the eagle in the emergency lane on the edge of I-40. It seemed dazed and teetered around about three feet from traffic.
"It wasn't aware of what was happening," Redig said. "Cars would go by and it wasn't aware of anything. Then all of a sudden his head just snapped and he started making contact with everything and everybody. You could tell it was pretty upset."
The DPS officers contacted AZGFD who were able to capture the eagle as it ran off the road into a ditch. AZGFD took the eagle to Bearizona Wildlife Park in Williams.
"We try to assist with wildlife injuries when we can," said Bearizona Chief Operating Officer Vanessa Stoffel. "We facilitate finding the right avenue for an injured animal to get rehabilitated."
Staff at Bearizona, with the assistance of High Country Raptors, transferred the bird to Liberty Wildlife in Scottsdale for treatment and recovery.
"When this bird first came it was very traumatized, very lethargic and down," said Liberty Wildlife Veterinarian Kathy Orr in the AZGFD video. "We took x-rays and it seemed there was a crack in the clavicle, which would be the wishbone, but it was displaced."
The eagle stayed at Liberty Wildlife for almost three months. Staff knew it had been hit pretty hard by the truck but were surprised it wasn't more seriously injured. They assumed it would have severe internal injuries and fractures, but found nothing else broken.
"His rehab has gone very well," said Liberty Wildlife Animal Care Coordinator Jan Miller in the video. "He's been one of our easier cases in the sense that there's been less hands on that's needed to be done with him. It was more of an R&R to let him rest and make sure he was eating right and getting the right care and exercise to build-up the strength he needed before release."
Many of the people responsible for the rescue of the golden eagle converged Feb. 2 as Liberty Wildlife staff and volunteers brought the bird back to the location where it was found injured in November.
They watched as Miller brought the bird, whose head was covered, to a hill below the interstate. Miller tossed the bird into the air and onlookers cheered as the bird quickly flapped its wings and headed off into the wild again.
"It was pretty awesome to see it take off," Redig said. "The power and the majesty of that bird..."
Golden eagles in Arizona
The average golden eagle (Aquila chrysaetos) is about three feet long, weighs 15 pounds and has a wing span of seven feet. Their lifespan is 15 to 20 years. Adult golden eagles are brown with tawny on the back of the head and neck with a tail faintly banded.
The golden eagle is a solitary bird and can be found in remote areas. They are great hunters and seldom eat carrion. They prefer groundhogs, foxes, skunks, cats, rabbits, grouse, ground squirrels, crows, pheasants, meadowlarks, tortoises and snakes. Their hunting territory extends up to 162 square miles.
Golden eagles mate at about 4 years of age, and often stay paired with the same mate for life. They prefer to nest on rocky crags or steep cliff faces, although they will occasionally build a nest in a tree, often returning annually to the same nest. Females lay a clutch of one to three eggs, once a year. Most males do not share in the 41 to 45 days of egg incubation, but will bring food to the female. Both parents share the responsibilities of raising the young.
Golden eagles escaped the plague of DDT contamination, because their diet consists of small grass-eating mammals. However, deliberate poisoning, shooting, and trapping of golden eagles continues today, despite laws protecting them.
Golden eagles are protected in the United States through the U.S. Fish and Wildlife Service (USFWS). Possession of a feather or other body part is a felony with a fine of up to $10,000 and/or 10 years in prison, although federally recognized Native Americans are able to possess these emblems, which are traditional in their culture.
The USFWS estimates there are 30,000 golden eagles in the western US. However, AZGFD says little information exists about population, habitats or habits of golden eagles in Arizona.
The AZGFD Nongame and Endangered Wildlife Program is asking for the public to report information on golden eagles to GoldenEagle@azgfd.gov. They are looking for golden eagle nest locations and sightings to help refine the state population estimates and embark on a monitoring protocol to better manage the species in the future.
More like this story