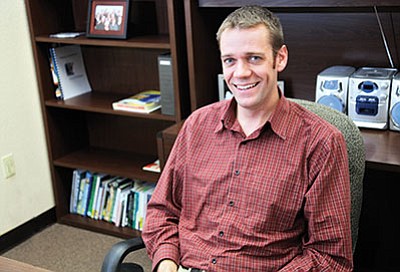 Originally Published: February 2, 2016 12:06 p.m.
WILLIAMS, Ariz. - Williams City Manager Brandon Buchanan resigned after four years at the helm of city operations and has accepted a position as city manager of Woodinville, Washington. Williams City Council members accepted his resignation in a special session Jan. 25. His last day is Feb. 19.
Buchanan said his family is at the center of his decision to move on.
"The biggest thing that made me look elsewhere was the future of my family," Buchanan said. "I've got three young kids and I've got to start looking at the school systems and the opportunities I want to provide them as they grow up."
Buchanan became city manager in Williams in December of 2011. Prior to that he was the City Administrator for the city of Oakley, Kansas. When he arrived in Williams he said he looked forward to working in the community and said one of his goals was to find ways to increase efficiency and stretch dollars.
During the past four years, Buchanan and his staff worked on numerous projects throughout the city. Some of these projects include: hiring a new golf course manager, saving the city $30,000 with a new city trash contract, building more hangars at the airport, building a tot playground, increasing city water rates, building a rec center playground, creating the Glassburn Park exhibit, working on a new snow plowing method to save money, building a new maintenance building at Cureton Park, building a new youth sports field, buying new equipment for the golf course, installing a second gateway arch, digging the Sweetwater Well, replacing city water meters, and taking over the downtown visitor center.
"He has been a tremendous force in a very positive way," said Councilman Craig Fritsinger. "I saw him from the day he started and I thought he was a little young for the position. He developed over that period of time and he was just getting to the best part and now somebody else pulls him away."
Buchanan said he is very proud of his time here and believes he and the city staff have accomplished some great things. He hopes the momentum will continue.
"I think with these people in leadership rolls (city council) it will," Buchanan said.
Buchanan said the Sweetwater Well was the largest endeavor he worked on during his time in Williams. He said he is proud of the progress the city has made towards developing a secure water situation for Williams. The well is cased and the city is now waiting for additional funds to connect the well to the city system.
"Most of the credit goes to the council for being willing to take a lot of the heat as we've made those steps that weren't easy and weren't cheap," Buchanan said. "But they recognized that the cycle of water restrictions had to be broken."
He said that Williams should be in a good water position once the final steps in the development of the Sweetwater Well are complete. In the past he said he hoped to see five working wells in Williams' future. He said it would be ideal to manage the wells and city lakes together as a system, with the lakes being an emergency reservoir to back up the wells.
Future challenges
When asked about what challenges he sees in the future for the city, Buchanan said the city is going to have to work on finding money to upgrade the city's infrastructure. He said a study done four years ago found that it will take about $30 million to get the city streets into acceptable condition.
"Where's a community this size going to get $30 million?" he said. "If we continue at the rate we have been putting into it, that's roughly 100 years' worth of budgets to get there and that's just the streets."
Buchanan said the city water lines and electric system also need to be replaced. He said that's probably another $30 million or more to accomplish.
"So if you're looking at $100 million dollars it might be as well as a billion dollars for a community this size," he said. "We increased the sales tax some years ago to go to roads, but even bringing in an extra half-million dollars per year covers only half a mile of new road, if you're lucky."
Lessons learned
Buchanan said there are many things he is going to miss about living in Williams. He said the community has been very welcoming and he enjoys the northern Arizona environment. He said he has enjoyed working with the city council and appreciates the trust they have had in him.
"I'm happy that we got stuff done," he said. "We busted some of the rust off the gears and got things moving and we have some momentum going in positive directions. That's just from not being afraid to try things and do them."
Buchanan has enjoyed educating himself about the projects he was involved in and feels like that helped him in his decision making. He said he is by nature a curious person and enjoys knowing how things work.
"I've become more fluent in water than I thought I would ever be," he joked. "But really that's my style of management. I ask because I'm curious and so I can have these conversations intelligently. When there's a problem I can just talk to a department director about it instead of them having to educate me every time. So water specifically I've dedicated a good part of my life to."
He said one thing he has learned as the city manager in Williams is how to adjust in situations. He said things change all the time and nothing works out as planned. He said he spent a lot of time figuring it out as he went along.
"That's just the nature of small communities and city management in general," he said. "It's probably been four years of continuous practice in endless flexibility."
Buchanan said one of the challenges of taking on a new city manager position will be building trust with the city council and community members.
Woodinville, Washington has a population of about 12,000 and Buchanan looks forward to the amenities of a bigger community. He said he will enjoy exploring the cultural and educational opportunities of nearby Seattle with his family, but said he will miss the perks of a small town.
"Sometimes you get spoiled with a small town," Buchanan said. "You're a lot closer to the action and you actually get to drive through the city and say 'That park wouldn't have happened if we hadn't done this and this.' Where in a bigger community you're more disconnected."
Councilman Don Dent said he has appreciated the work Buchanan has done in Williams. He said Buchanan has moved the city forward in a number of directions and gotten a lot of things done. He said the council expected at some point that Buchanan would move on.
"If you hire a young guy you expect (the position) to be a stepping stone," he said. "If you have a guy that nobody else is trying to hire you probably shouldn't keep him around anyhow. I think he's done a great job."
More like this story