Santa arrives in high style
American Legion, Squire Inn fly Santa in via helicopter

Originally Published: December 20, 2016 11:57 a.m.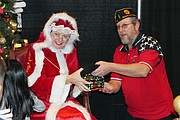 GRAND CANYON, Ariz. — Thanks to a little bit of holiday magic, Tusayan, Arizona transformed into the happiest place on Earth. Students from Kaibab Learning Center and Grand Canyon School were treated to a special visit from Santa and Mrs. Claus at the Best Western Premier Grand Canyon Squire Inn Dec. 15.
Greeted by excited squeals and Disney princesses, Santa and Mrs. Claus made their way to the dining room to take part in a holiday tradition that goes back more than two decades. The event, hosted by Squire Inn staff for Grand Canyon students aged pre-K through third grade, features a different theme each year, with opportunities for cookies, crafts, and the all-important face-time with the jolly old elf himself.
Adorned with mouse ears, staff served milk and cookies to the kids for breakfast (it's a special occasion, right?) When the time came to visit with Santa, students wasted no time listing their most-sought-after goodies. And each of them received a little pre-Christmas gift, courtesy of the American Legion and American Legion Auxiliary from John Ivens Post #42. The women of the legion provided hand-made hats and scarves to kindergarten and first graders this year along with the customary Christmas snacks.
Sue Winchester, who helps coordinate the event for the Squire Inn, has been participating in the event for eight years.
"We fly Santa and Mrs. Claus in via helicopter," she said, as everyone knows that Santa prefers helicopter travel when visiting the Grand Canyon.
"The kids are all so excited, and all the guests and staff get really excited too," Winchester said. "In the eight years I have been doing this, I have never escaped with a dry eye."
The American Legion and American Legion Auxiliary have been co-hosting the Christmas program for the past several years. Members of the Legion and Auxiliary, as well as American Legion Auxiliary Jr. and Sons of the American Legion, all from John Ivens Post #42, get together each year to assemble gifts for each child and knit scarves and hats.
Santa's fondness for helicopters is a time-honored tradition at the Grand Canyon – helicopter companies routinely donate their time to provide a shuttle service for Mr. and Mrs. Claus. Maverick Helicopters flew Santa in to the airport to meet with eager first-graders and hand out a few gifts, while Papillon Helicopters flies several hundred pounds of toys and gifts to bottom of the Grand Canyon for Operation Supai, an annual holiday tradition since 1996.
SUBMIT FEEDBACK
Click Below to:
More like this story