Williams schools celebrate reading with annual Literacy Night
Originally Published: December 6, 2016 1:08 p.m.
WILLIAMS, Ariz. — Despite the cold, dozens of Williams Elementary-Middle School (WEMS) students and their parents showed up for the second annual Family Literacy Night Nov. 30.
The students and parents played games, learned about reading techniques and received books at the event that was organized by kindergarten teacher Louise Durant.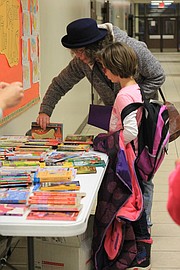 "Our goal is to get families in to the school," Durant said. "I really feel that it takes a village to raise children so the more we can get the families back into the school and the kids into the school the better."
Durant brainstormed about literacy projects and organized the event. She did a lot of research online and got ideas from other schools. She looked for activities that would open up literacy at home and projects that kids could take home that would encourage dialogue with parents.
She is looking at ways they could encourage reading and get more books into student's homes.
"We are a Move on When Reading School," Durant said. "We really focus on K-3 and have special funding for that. That is where they are learning to read and are beginning to build that literacy."
The group designed activities and games for the students to play where they could earn tickets for books.
"We want kids and parents to know they can continue literacy work at home," Durant said. "Even students that are eight, nine and ten can still benefit from being read to home."
Durant said staff gave out 122 books to students that were purchased with reading funds from the school.
"We really want to get books into kid's hands," she said. "We would like to see books in every home."
Another component of the event was parent breakout sessions. Linda Honsinger and Patty Jackson met with parents to teach them how to build comprehension, decoding and fluency with their children.
"With the new state standards or Common Core, the idea behind it is to get kids to think critically," Durant said. "It's not just doing the math, doing the reading. It's 'What are you reading? Why are we doing this? How does it connect to my life?'"
Durant said they love for parents to read with their children at home, but are hoping parents will do even more. She said they want parents to help children connect reading with their lives. They want students to understand whether they are reading for entertainment or information.
"The most important thing parents can do is read to their kids," Durant said. "Read every night and not just reading stories like fairy tales, but books about science and math. Trying to develop literacy across the curriculum is really important."
The event also consisted of several literacy activities. WEMS staff Somer Holl, Andrew Wollman and Amber McMahon led games in the library. McMahon led a game with story cubes, which are basically a story starter where students roll dice with pictures on them.
"If your kids are interested in motorcycles, find something on motorcycles,'" she said. "Not just the fun fairy tale stuff. "
Fit kids coordinator Tara Lowe led a cake-walk type game that had kids moving around a circle and then reading their cards when the music stopped. She would read out a sight-word and whoever was on the word would be awarded a ticket for a book.
The group is hoping the literacy event will become an annual event. They are eager to get books into kid's hands.
"We had about the same turnout," Durant said. "We had about 30 middle schoolers and 50 elementary students show up which was great considering the weather and other conflicting events that evening."
Durant said she is already working on plans for next year's Literacy Night.
"We have some big plans for next year," she said. "We're going to involve drama and I'm going to talk about how Pokémon play can serve literacy and math."
SUBMIT FEEDBACK
Click Below to: