Racing toward a goal: Girls on the Run encourages, empowers girls

Originally Published: December 6, 2016 11:47 a.m.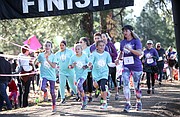 GRAND CANYON, Ariz. — Growing up is a long, winding road. From the moment they set foot on it, young girls are bombarded with ideas about what it means to be a woman — how they should look, how they should behave, and how they should be treated.
Girls on the Run (GOTR), a non-profit program for girls in kindergarten through eighth grade, is designed to empower girls to succeed on their own terms, by setting goals and building self-esteem.
The program's curriculum is built around running and being active — participants meet twice a week to work on lessons that focus on understanding themselves, valuing and building relationships through teamwork, and connecting with others to contribute to their community. With each of the lessons, the girls build confidence through accomplishments, such as completing the 5K run at the end of the season.
The benefits of Girls on the Run is obvious to Kate Maragos, who coached 13 girls aged 7-10 from Grand Canyon this year. In her fourth year as a coach for the program, Maragos said one of the biggest benefits of the program was the focus on goal-setting.
"Setting goals helped the girls focus more on looking for inner beauty, instead of looking to the outside world for approval," she said. "We talked a lot about setting goals for ourselves and trying as hard as we could to reach them. It's about being your best self."
Maragos said the girls were excited from the very beginning to get through the lessons. With her eager runners, she was able to kindle the girls' desire to empower each other. Though each girl ran at her own pace, she said, teammates were always nearby to offer encouragement.
"Their team-building skills really improved," she said. "They were really eager to encourage each other, to build each other up. They were excited to do things together as a team."
To celebrate the completion of the three-month long programming, the girls attended a Healthy Living Expo at Coconino High School in Flagstaff, an opportunity to join friends, family and community runners for an evening of games, crafts, fitness activities. The next day, runners participated in the Girls on the Run of Northern Arizona Celebratory 5K at Fort Tuthill County Park in Flagstaff.
"The celebratory 5K is an important part of the GOTR experience," said Marney Babbitt, Girls on the Run of Northern Arizona council director. "The event gives the girls a tangible sense of achievement; they set a goal and they reach it."
Babbitt said the organization added a Hall of Heroes to the Healthy Living Expo this year.
"The girls will meet accomplished women from Northern Arizona who will inspire them to achieve their career goals," she said.
Girls on the Run of Northern Arizona was established in Flagstaff in 2008, and operated as an independent non-profit organization until 2012, when it was adopted by North Country HealthCare. According to the organization's website, Girls on the Run International has logged nearly 100,000 volunteers and served more than one million girls in all 50 states since it was conceived in 1996.
SUBMIT FEEDBACK
Click Below to:
More like this story