Grand Canyon School District moving forward with parent input

Originally Published: December 6, 2016 11:15 a.m.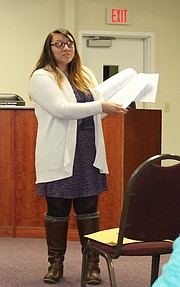 TUSAYAN, Ariz. — For the second year, life at Grand Canyon School has remained virtually unchanged — something that school employees and parents can agree is a very good thing.
Personnel turnover in the past led to some steep challenges for the small school, rural school, and lack of a curriculum meant that the district was lacking in stability from year to year, affecting students' ability to learn.
At a parent meeting Nov. 30, school staff and administrators met at the Tusayan Town Hall to discuss parent concerns and explain the district's new curriculum mapping process.
According to principal Tom Rowland, 2016 represents a turning point: the district lost just two teachers from 2015 to 2016, and the school's new curriculum, Beyond Textbooks, has made it easier for teachers to review standards and work with each other and the administration about how best to teach the material.
Beyond Textbooks, a curriculum based on teacher collaboration and student development, has seen a few bumps on the road to implementation. For starters, the curriculum is based on a five-day week, and students at Grand Canyon only attend school four days per week. Because of this discrepancy, Rowland noted teachers have had to finagle their lesson plans to fit the program's lesson calendar.
This is part of the curriculum mapping process in which teachers grades 1-12 cover educational standards set forth by Arizona's State Board of Education. The students' comprehension of these concepts are then assessed annually by AzMERIT, and the school is awarded a score based on its progress from year to year at certain grade levels.
Teachers Leann Maritnez (fifth grade) and Sara Newton (high school science) discussed the way they utilize the curriculum calendar to teach. For instance, Martinez covers one core concept per week — the lessons begin on Monday and become progressively more complex throughout the week, ending with a brief quiz in reading or math on Thursday.
"We have so many days to teach a standard, based off of AzMERIT," said Martinez. "We try to be creative with it, to make it fun for the kids. It's a lot to cover, but we don't want them to feel overwhelmed by the assessment."
For high school teachers like Sara Newton and Carol Frischmann, the standards may be a bit more complex. Advanced standards like reading, writing, comprehension and grammar many take several weeks to cover, but the process is essentially the same: students cover progressively more difficult material until they are tested over their comprehension.
This method, while allowing teachers to make sure they are adequately preparing for AzMERIT testing and meeting individual students' learning needs, has met with a few challenges of its own.
Esther Sacco, whose daughter is a sixth grader this year, pointed out that, without a textbook, how are parents to know what their children are working on, and what resources are available to help them at home?
"The kids are not bringing home a textbook, so we don't know what they're learning that day," she said. "We just want to know week to week, what are our kids learning that we can help them with?"
Some teachers, like Newton, hand out schedules to the students detailing what they will be working on for the next few weeks. Students should be able to bring those to their parents, she said, and let them know what they're working on. Middle school math teacher John Sullivan spends some of his afternoon on Sundays emailing parents about what their students are working on and what they should be expected to know for the following week.
Al Montoya, whose son is in seventh grade this year, praised Sullivan for being proactive.
"I can ask my son every day if he has homework, and every day he'll tell me 'no,'" Montoya said. "That's the natural process. But if I get an email or a text from Mr. Sullivan telling me that he only has so many days to do something and he hasn't done it … let us know what we have to do as parents. The parents aren't always getting informed enough to help."
While some teachers are able to make time for these activities, others, Rowland said, simply don't have enough time in the week to prepare handouts for every single course they teach.
"In a large school, teachers present the same material five or six times per day," he said. "Biology teachers teach biology five times per day. They can prepare ahead of time for every class. But our teachers can't do that. They teach many different classes and subjects."
Rowland explained that in eliminating staff turnover, there is a balance between keeping parents informed and not overburdening teachers who may already work seven days a week just on teaching and lesson plans.
So why can't teachers simply send home a copy of the curriculum BT calendar that teachers adhere to?
Vice principal Lori Rommel, a former curriculum coordinator for the school, said that of itself, the calendar wouldn't be very helpful.
"If we just took the calendar and printed it out, it wouldn't make sense," she said. "It would need to be modified, because it's full of teacher and education-speak."
Rommel and the school staff agreed to search for a way to get information home to parents on a weekly or monthly basis without placing extra work on teachers.
SUBMIT FEEDBACK
Click Below to:
More like this story