Grand Canyon basketball warms up with Williams tourney

Originally Published: December 6, 2016 10:37 a.m.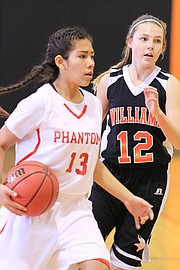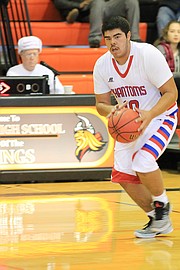 GRAND CANYON, Ariz. — The Phantoms got their first taste of the basketball season Dec. 1-3 at the annual Route 66 Holiday Basketball Classic Tournament in Williams.
For the Lady Phantoms, it was a chance to continue improving. The team secured a big win in their very first game of the season, 41-24 over the Williams Vikings. The Lady Phantoms never trailed, leading the score after each quarter and outscoring the Lady Vikings nearly 2-to-1 in the first quarter.
The Lady Phantoms eked out a close win against Joseph City in the second round of pool play, defeating the Wildcats 26-23 in a hard-fought game. After another big first quarter, during which they outscored the Wildcats 11 to 1, the Lady Phantoms were able to hang on through three challenging quarters for the win.
The Lady Phantoms played against Chino Valley for third place in the 10-team tournament, coming up short by just three points in the 38-35 loss.
After a rough start to the season, David Perkins, in his first year as boys basketball coach, said he expects the team to improve through experience and working on game fundamentals. Of the 10 players in the tournament, he explained, four were new to the team and two others had no varsity experience.
Still the Phantoms displayed both talent and potential in their two tournament losses.
The first game, a 54-40 loss against Joseph City, saw Israel Herrera score nearly half of the team's total points with 19. Neegoh Kaska pulled down 12 rebounds and blocked six shots in a solid defensive effort.
"We expect we will get better," Perkins said. "We're a good free throw shooting team, and we will work on improving our offense."
The Phantoms play their next game Dec. 6 at home against Flagstaff Basis. The Lady Phantoms head to Ash Fork to take on the Spartans Dec. 9.
SUBMIT FEEDBACK
Click Below to:
More like this story